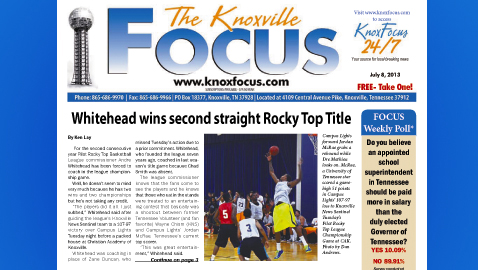 To view this week's Focus, click here.
Whitehead wins second straight Rocky Top Title
By Ken Lay
For the second consecutive year Pilot Rocky Top Basketball League commissioner Andre Whitehead has been forced to coach in the league championship game.
Well, he doesn't seem to mind very much because he has two wins and two championships but he's not taking any credit.
"The players did it all. I just subbed," Whitehead said after guiding the league's Knoxville News Sentinel team to a 107-97 victory over Campus Lights Tuesday night before a packed house at Christian Academy of Knoxville.
Whitehead was coaching in place of Zane Duncan, who missed Tuesday's action due to a prior commitment. Whitehead, who founded the league seven years ago, coached in last season's title game because Chad Smith was absent.
The league commissioner knows that the fans come to see the players and he knows that those who sat in the stands were treated to an entertaining contest that basically was a shootout between former Tennessee Volunteer (and fan favorite) Wayne Chism (KNS) and Campus Lights' Jordan McRae, Tennessee's current top scorer.
"This was great entertainment," Whitehead said.
McRae scored 51 points in a losing effort for Campus Lights while former Central High School standout Dre Mathieu (a Minnesota signee) scored 12 points.
Chism finished with 37 but got plenty of help from his supporting cast. Galen Campbell, a Fulton graduate, finished with 25 points. University of Georgia graduate Gerald Robinson finished with 17. Austin-East alumnus Brandon Lopez, who plays at Tennessee, added 14 points.
"Galen Campbell and Bradon Lopez played well and Gerald Robinson is just a stud," Whitehead said.
Knoxville News Sentinel may have claimed the title, but things didn't go the champions' way early.
Campus Lights used a late first-half surge to open a 62-54 lead by halftime.
Knoxville News Sentinel battled back to take an 85-80 lead on Campbell's shot with 8:10 remaining in the contest. Campus Lights evened the game at the 6:33 mark on a free throw by McRae.
From there, the game was a see-saw affair before Lopez, Chism and Robinson took over. That trio controlled the game over the final 2 minutes, 42 seconds.
McRae's old fashioned 3-point play evened things at 97 with 2:53 remaining. That would be the last basket of the game — and the season — for Campus Lights. Meanwhile, Robinson, Chism and Lopez keyed a 10-0 run to close out the game.
"This was just a great game," Campus Lights coach Brent Watts said. "Wayne just put on a show and gave the fans what they expect to see from Wayne Chism.
"This was [a] great [season]. It gives me a chance to get my basketball fix and keeps me young. Tomorrow night at this time, I'll be going to the pool with my kids."
Both Watts and Whitehead were pleased with the new venue.
"CAK has been nice to us," Whitehead said. "They've been great and we've enjoyed it here and we look forward to coming back here next year."
Watts agreed.
"We had [good] parking and air conditioning and you can't beat that," Watts said.