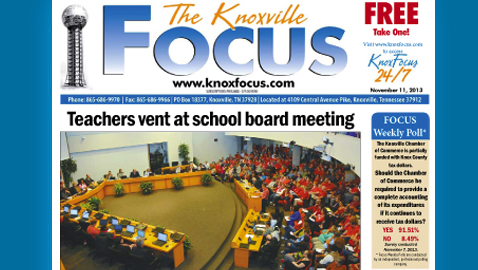 Click here to view this week's Focus.
Teachers vent at school board meeting
By Mike Steely
steelym@knoxfocus.com
Teachers and supporters voiced their frustration with the current state-required teaching method and attacked School Superintendent James McIntyre and the Central Office at a teacher-packed City County Building where the Board of Education meeting was held last Wednesday.
Dressed in red for solidarity, teacher after teacher stood at the podium to unload their opinions. Many spoke for longer than their allotted five minutes, and received standing ovations from an audience who shared their complaints.
"I have never, ever, seen morale as low as it is right now," said a high school science teacher with 19 years of experience.
Another thirty year teacher came to tears after introducing herself to the board, but, encouraged by the support of other teachers,   went on to tell the board that teachers are being told: "We are not enough."
Others said that the Common Core and APEX evaluations are turning students into "test takers" and "robots."
Several speakers said  that the unexpected and unannounced evaluation in the classrooms, along with the evaluation scores of teachers by outside evaluators, is causing good teachers to retire early or simply quit, "Students are distracted by the interruption (during evaluations) and some students have complained to their families about "stalkers" in the classroom.
"We are being mistrusted and micro-managed" said one.
Two speakers called on Superintendent McIntyre to leave and called on the school board to back the teachers. One speaker called on the teachers to blame the county commissioners and to "vote for a commissioner "that supports their cause.
Several addressed the requirement to touch on the "61" criteria demanded in a one-hour class, no matter the subject being taught.
Teachers stood and applauded as State Representative Gloria Johnson, a special education teacher in the system, walked forward to speak to the board. "Teachers cannot overcome the poverty at home," Johnson said, referring to under privileged and special needs students.             She called the current requirements of teaching a "top-down management" by the state and said that test scores are not a good evaluation. She also said that letters to the Central Office by teachers are not answered, a subject mentioned by other speakers. But she added that the complaints are "not limited to Knox County but are state-wide."
"I'm a teacher, it's not just my profession, it's who I am," one speaker said, adding "I love to teach but I no longer love my job."
Several speakers said they were there to speak but were in fear of losing their positions as a result.  "Teachers no longer feel safe," one teacher said about their jobs.
Others spoke regarding long time teachers who have received "letters of concern" after an evaluation. "You are robbing people of their dignity with these letters," one teacher told the board.
Another speaker said that both he and his wife are teachers and his wife told him "I'm done." Others complained that their classroom students are being tested on subjects they have not yet been taught.
"According to Knox County I am an ineffective teacher," one teacher said.
"I'm tired of being told to speak less Spanish in my Spanish Class when the evaluator doesn't speak Spanish," another teacher said.
Another said that some teachers are crying in the halls after being evaluated and that the "stress levels are on the rise and we can't focus on teaching each child."
Following the heated and emotional presentation by teachers, coaches, and even a librarian,  board member Lynda Kincannon suggested that the complaints be discussed in their mid-month meeting. Board chair Lynn Fugate said that the matter would probably be discussed at the state conference (held last weekend)  which would give the board insight.
The next meeting of the Board of Education is a work session, scheduled for Monday, November 18th, at 5 p.m.
Teachers speaking at the meeting included Mark Taylor, Amber Rountree, Don Sage, Tim Goddard, Sara Bellah, Emily Parker, Karen Latus, Melissa Batista, Robert Taylor, Bob Savery, Maureen Myers, Linda Holtzclaw, Richard Yoakley, Amy Arnold, Irene Patterson, Sandra Rowcliffe, and Tanya Coats. Ethan Young, a Farragut High School Senior, also spoke on behalf of the teachers.
John Peach, of the Textbook Review Committee, also spoke.