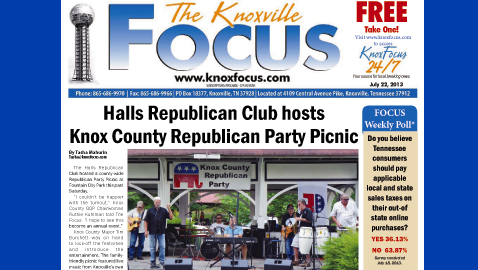 Click here to view this week's Focus.
Halls Republican Club hosts Knox County Republican Party Picnic
By Tasha Mahurin
Tasha@knoxfocus.com
The Halls Republican Club hosted a county-wide Republican Party Picnic at Fountain City Park this past Saturday.
"I couldn't be happier with the turnout," Knox County GOP Chairwoman Ruthie Kuhlman told The Focus. "I hope to see this become an annual event."
Knox County Mayor Tim Burchett was on hand to kick-off the festivities and introduce the entertainment. The family-friendly picnic featured live music from Knoxville's own Con Hunley, as well as, The Chillbillies, featuring Knox County Juvenile Court Judge Tim Irwin.
Other elected officials and hopefuls alike were also in attendance at the "meet and greet" style event- which brought out nearly 200 people from across Knox County.
Attendees mingled amongst local politicos and dined on Buddy's Bar-b-cue. Dessert was provided by individual Republican clubs from throughout Knox County. Each club represented set up a booth from which to serve dessert. As part of the festivities a contest was held amongst the clubs for presentation. The Young Republican Club took first place.
"It's great to see the entire party come together for an afternoon," Kuhlman, who began advocating for a county-wide event while running for the chair position, added.