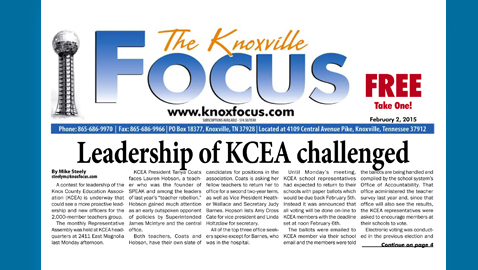 Leadership of KCEA challenged
By Mike Steely
steelym@knoxfocus.com
A contest for leadership of the Knox County Education Association (KCEA) is underway that could see a more proactive leadership and new officers for the 2,000-member teachers group.
The monthly Representative Assembly was held at KCEA headquarters at 2411 East Magnolia last Monday afternoon.
KCEA President Tanya Coats faces Lauren Hobson, a teacher who was the founder of SPEAK and among the leaders of last year's "teacher rebellion."  Hobson gained much attention as an early outspoken opponent of policies by Superintended James McIntyre and the central office.
Both teachers, Coats and Hobson, have their own slate of candidates for positions in the association. Coats is asking her fellow teachers to return her to office for a second two-year term, as well as Vice President Heather Wallace and Secretary Judy Barnes. Hopson lists Amy Cross Cate for vice president and Linda Holtzclaw for secretary.
All of the top three office seekers spoke except for Barnes, who was in the hospital.
Until Monday's meeting, KCEA school representatives had expected to return to their schools with paper ballots which would be due back February 5th. Instead it was announced that all voting will be done on-line to KCEA members with the deadline set at noon February 6th.
The ballots were emailed to KCEA member via their school email and the members were told the ballots are being handled and compiled by the school system's Office of Accountability. That office administered the teacher survey last year and, since that office will also see the results, the KCEA representatives were asked to encourage members at their schools to vote.
Electronic voting was conducted in the previous election and the turnout was much less than expected.
One KCEA member told The Focus that she has completed the voting on-line and, although it was easy, "it does concern me that KCS has the ability to view the votes or know how many people have voted or not voted."
Twenty or so offices are also on the ballot for KCEA voters. Candidates for Elementary Representative include Ashley Anthony, Patricia Fontentot and Anne Lefler. Candidates for Middle School Representative are Jessica McDonald, Mark Taylor and Michael Weininger. High School Representatives include Julie Smalling and Lisa Thomas.
Candidates for ESP (Education Support Professional) include Lola H. Allen and Joe Sumter.
KC-PACE (Knox County Political Action Committee for Education) in the First District are Jessica McDonald and Yvonne Wilson. Second District candidates are Charles Coffelt, Aneisha Davis and Patricia Fontenot.
Candidates for the 3rd District are Anthony Hancock and Beth Norton. The 4th District seat is open.
The Fifth, sixth, seventh and eight districts have only one candidate each: mark Taylor, Sherry J. Morgan, Judy Barnes and Lisa Thomas.
Evelyn Gill and Dave Gorman are candidates for the 9th District.
Candidates for KC-PACE At Large are Trish Russell, Joe Sumter and Heather Wallace.