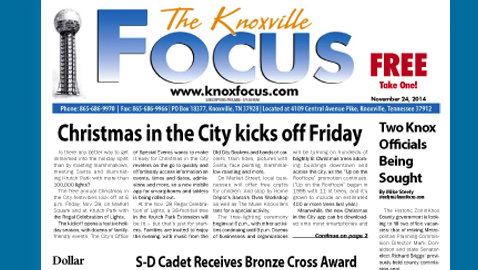 S-D Cadet Receives Bronze Cross Award
On November 20, South-Doyle High School Army Junior ROTC Senior Cadet Jacob S. Hale was presented with the Legion of Valor Bronze Cross Award from the Legion of Valor of the United States of America Inc., an organization founded in 1890 and comprised of Medal of Honor and Service Cross recipients. This prestigious award recognizes cadets worldwide who have demonstrated excellence in military, scholastic and civic affairs. Of the more than 300,000 cadets participating in the Army JROTC program worldwide, only 28 were approved for the Bronze Cross Award in 2014.
Cadet Hale is a senior at South-Doyle High School and plans to pursue a career in the Marine Corps after graduating from college. In JROTC, Hale has served in the Color Guard and commanded the Raider Team. In May 2014, Hale assumed command of the Cherokee Battalion, is a member of the Young Marines, captain of the LifeSmarts academic team and captain of the financial management team. He earned the Superior Cadet Award for three years, Marine Corp League Leadership Award, 82nd Airborne Division Leadership Award and American Veterans of Foreign Wars Award. Hale is also a member of the National Honor Society and Dean's List, attended Tennessee Boy's State Convention in 2014 and has been recognized for giving more than 100 hours of community service.