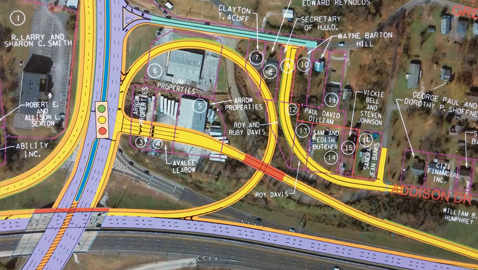 By Mike Steely
steelym@knoxfocus.com
The state's plans to help the congestion and safety at North Broadway where the busy street intersects with I-640 continue to develop and the public was again involved in a presentation Wednesday at Virginia College in Fountain City.
R. Larry Smith, president of the Fountain City Business and Professional Association  which hosted the event, introduced TDOT Project Manager Mike Russell, who referred to several prior public events about project. Russell said that acquisition of the final right-of-ways is underway and construction bids could be let in December for the upcoming Phase Two.
Russell also said that the timeline stands if federal funds are available and that the Knox County project will compete with all the other state counties for funds. The project is estimated to take three years to complete.
Several maps were displayed along with a mock-up video of what the route would look like in the future. Russell told The Focus that the businesses between I-640 and Greenway Drive have already been purchased in making way for a loop there to connect north-bound drivers up to westbound I-640.
He also said that Louis' Restaurant on Old Broadway will not be taken for the road although the work to reroute Dutch Valley Road will take the former gas and car repair shop at the corner of Dutch Valley and Old Broadway.
Old Broadway will be rerouted and much of the north end of that street will be given to the city of Knoxville for possible greenway path use.
Cassie Holmes and Hollis Loveday with TDOT also spoke to the large crowd and said that the first part of Phase Two will be the construction of the loop ramp and exit ramp from Broadway to Westbound I-640 and from westbound I-640 to northbound Broadway. That step should involve little or no interruption of traffic.
When asked by Greenway Drive homeowners about designing Broadway to allow for a left turn from their street, the TDOT officials said that was impossible and residents there will have to go north and turn and come back to head down southbound Broadway or reach the interstate.
Traffic lights along Broadway and Old Broadway will change locations as well.
"The Feds have signed off on our plans," Russell said.
"It's going to work a lot better," Loveday said.