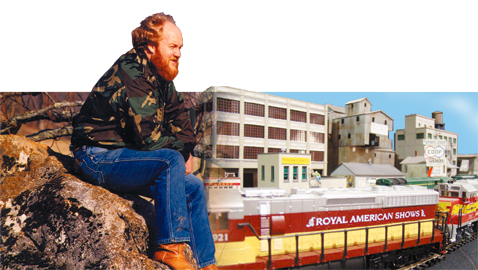 By Tasha Mahurin
tasha@knoxfocus.com
Anyone in the auction business will tell you that each item has a story. And while every item has worth, often it is the story behind an item that determines its true value. This week at Fountain City Auction, a model train collection will be featured, and its story extends far beyond that of any ordinary hobby.
Jerry Lee Long was born in 1951. The Knoxville native graduated from Fulton High School.  While at Fulton High School, he studied drafting. During his senior year, he took a part time job at KUB where he continued to work for thirty years before retiring.
Throughout the years Jerry was a Cub Scout, a Boy Scout, an EMT, a Volunteer at Sevier County Rescue Squad, as well as a volunteer counselor at several alcohol/drug rehabilitation centers.  He often played Santa Claus at Christmas either for children's charities or the Sertoma Center. By all accounts, he loved helping people in any way he could.
Jerry also loved the outdoors and spent a great deal of time backpacking, camping, and hiking in the Great Smoky Mountains National Park.  He loved traveling, photography, history, reading, playing cards, story–telling, gardening, and bird watching. His real passion, however, was HO Scale Model Trains.
After retiring from KUB, he put his years of expertise in mechanical drawing and planning and his love of HO Scale Model Trains into action.  Jerry drew plans and reconstructed two rooms of his home into a miniature city complete with railroads running throughout.
The process took years to complete.
"Being his sister, I always wanted to know how this operated and he would always say: 'Wait till it's finished'," Glenda Noe told The Focus.
He installed switchboards, transformers, and control centers.  These control centers operated numerous tracks that ran throughout the city. The model trains traveled through underground tunnels, over bridges, around mountains, and around the edge of trout streams where figurines fly-fished. The Southern Railway, The Virginian, and the L&N all traveled through Jerry's city.
In addition to scouring the Internet, Jerry often traveled to trade shows and hobby shops to purchase the pieces used in his display.  He individually painted many of the pieces and meticulously constructed rivers and greenways throughout his model city- which was also 'home' to a Coca Cola Bottling Company, Con Agra, the L&N Depot, White Lily Flour Company, JFG Coffee, and a Home Depot, among others.  Model airplanes flew overhead.
Jerry passed away in December of 2012. In his home, a tunnel extended from one room to another.  In the second room, a not-yet-completed Barnum and Bailey Circus, and other partially assembled exhibits and trains were found.
"Not knowing what to do with this collection we contacted Fountain City Auction Company. I would love to see someone purchase his train collection and enjoy it as much as he did," Noe added.
Jerry's train set will be auctioned at Fountain City Auction on Friday, June 14 at 6:00 p.m. For more information, contact Greg Lawson at 865-604-3468.