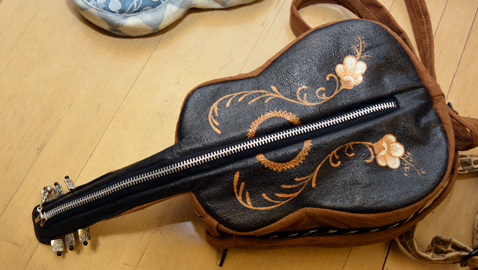 By Dan Andrews
andrewsd@knoxfocus.com
For Becky Chaffee, a simple idea has become a long and daunting challenge. The idea is to provide affordable, well-crafted musical instrument shaped purses to the general public. This passion project has given her a first-hand view of the complex maze of the entrepreneurial process and also provided an insight into the many available resources available to entrepreneurs.
The process of creating a new purse brand involved having to learn about the SEO process, manufacturing, branding, quality control, social media, publicity, and retail sales, to name a few. A major help in dealing with frustration is her SCORE mentor, Chuck Christiansen. SCORE (Service Corp of Retired Executives) was incorporated in Washington DC in 1965  and presently has over 380 chapters with about 11,000 volunteers.  It is a nonprofit, all-volunteer association dedicated to entrepreneurial education and the formation, growth, and success of small businesses nationwide.
"My SCORE mentor and I visited and called many manufacturers. It was even hard to find manufacturers overseas to create only a few hundred at a price that I can sell at with good quality. The violin purse is very complex with steel in both the scroll and back pocket, and the beads for tuning pegs. The guitar purses are also difficult to make with stiff enough neck. I am still having to finish the insides of the guitar purses myself after they arrive before I give them to artists to paint them. The piano purses could be done here, but there are waiting lists at factories of a year if one is lucky, with a very limited choice in fabrics. I sent the violin purse to Mexico, and the sample that they sent me (for an extraordinary price) looked to me like a sack of potatoes," Chaffee told The Focus.
After months and months of searching for a way to produce her product 100% in the United States of America (hopefully with recycled fabrics), she realized that a mass level of production was not possible.
"Nobody in America raises their daughter to work in a sewing factory. The fabric and the beads are made overseas. We don't have that many manufacturers here." That was the response Mrs. Chaffee received when she called the Georgia Textile Manufacturers Association. It was a crushing blow to her.
"Mr. Christiansen will point me to answers involving any business questions I might have," Chaffee said. "He has helped me find the most effective process with very limited resources. He invited another SCORE mentor, Walter Williams, into one meeting to give me a crash course on search engine optimization (SEO)."
Another organization in Knoxville that has been a tremendous help is the Knoxville Entrepreneurial Center, located in Market Square. The organization holds meetings where other business-minded entrepreneurs meet to discuss strategy and share ideas. These meetings provide a steady stream of positive, informative, and dedicated feedback, which is important to Mrs. Chaffee.
Currently, Mrs. Chaffee is actively involved in both selling her purses and for using her purses to support vital musical arts programs in the community. It has not been an easy path, but Chaffee is determined not to give up.
"I have been knocking on useless doors for a year, sending emails, making phone calls and going in person. I started attending meetings for various associations in several towns, and meeting people who know the town and know the people. Some of these people have connections, and are so glad to be helpful. The attitude at the networking type meetings is that you never know who can come to your aid, so everyone is important. And after having so many people come to my aid, if I can help anyone, I would be so happy to do so."
For more information or to purchase a pocketbook please visit www.violettesbybecky.com.