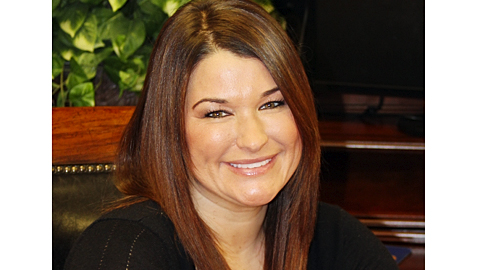 By Tasha Mahurin
Tasha@knoxfocus.com
"Nine years ago, I was trying to raise three children in Dalton, GA and struggling to pay my light bill. I lived in a mobile home next door to my parents," Andrea Rudd told The Focus.
Today, Rudd is the CEO of HR Comp, a professional employer organization (PEO), which generated total revenue of $111 million last year.
"I moved to Knoxville to take a job at another PEO in the area," she said. "The salary was more than I had ever made, and I thought at the time that it was my big break."
After working for the company for a period of time, she struck out on her own to form HR Comp in March of 2010.  By 2011, the startup had generated $15 million in revenue.
"This industry is all about relationships- creating them and sustaining them. There is no secret. We truly value our clients and the relationships we have built with them, and that is what has made us successful," Rudd added.
According to Rudd, a PEO provides a co-employment relationship in which both the PEO and company, a client of the PEO, have an employment relationship with the company's workers.  By a company outsourcing traditional employer human resources responsibilities like payroll, employment law compliance, employee taxes, and more to a PEO, a PEO can enhance a company's profitability and productivity.
"For example, among all the benefits of using a PEO, one thing that stands out to business owners as being one of the most beneficial is the savings a PEO can provide on Workman's Compensation Insurance," said Rudd.  "Depending on the business, we can save most up to 40 percent."
Rudd explains that a PEO can also direct and control a client company's worksite employees in manufacturing, production, and delivery of its products and services.
"We really provide a tremendous service for our clients and save them both time and overhead," Rudd explained.
The company has experienced remarkable growth over the last four years, and Rudd hopes to see revenue grow another $100 million this year. However, she says, the best part of success is giving back.
The company donates money to numerous charities including multiple athletic departments at Powell schools where her children attend, the University of Tennessee Medical Center, East Tennessee Children's Hospital, the Boy Scouts Great Smoky Mountains Council, and a slew of others.
When she isn't running HR Comp or working for a charitable cause, Rudd is a typical, busy mom who anchors the bleachers on Saturday afternoons cheering her kids on at a game. She lives in North Knoxville with her husband, Mike; sons, Andrew, Cayden and Colby; and stepdaughter, Mikaylah.
"I'll never forget where I came from, and I'm committed to giving back and helping others get where they are going," she said.