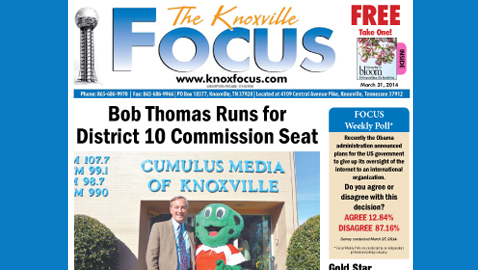 Click here to view this week's Focus.
Bob Thomas Runs for District 10 Commission Seat
By David Klein
Robert (Bob) Thomas does not have an agenda in becoming Knox County District 10 Commissioner. In an interview with The Focus, he said many times that he is in favor of reducing the debt.
Thomas is the former co-host of the Ed and Bob show and is running unopposed for the Knox County Commission at large seat for District 10, which covers the entire county. His friend Mike Hammond, the current seat holder whose term is expiring, told Thomas that he should consider running for his seat.
He said, "Bob, you really ought to consider running for my seat. I'd think you do an incredible job." Thomas' family said to go for it. Thomas is running unopposed for the seat in the May 6 Primary.
Thomas hosted a midday radio program at WIVK from 1976-1996 and had the highest-rated midday radio show in America for 16 years. Thomas was also chairman of the Knoxville Christmas Parade and brought the Knoxville Cherokees hockey team to Knoxville, owning the team for eight years and expanded the minor East Coast Hockey League from five to 22 teams. Thomas currently works in the sales department at WIVK.
In talking with voters, Thomas indicated some of their concerns. "They want the commission to act professionally. They want us to stop the waste. They don't want tax increases unless we can prove that they're necessary."
"We give about 70 percent of our tax dollars to the Knox County school system," Thomas said. "We could probably give 100 percent of our money to the Knox County school system, and you couldn't tell me a whole lot of difference between the two," he said.
"We have to make sure that we don't waste our money. We're giving the school systems the needed money they need in order to build a good infrastructure, but we also have to pay for 1000 sheriff deputies and 500 other people that work for the county. We have to make sure we have money left over. The mayor is trying to pay 20 million down each year (of the county debt)."
Thomas emphasized the county has made good progress. "We're on a pretty good path," he said. "Our bond ratings are going up. "We are a county, I think, that is admired by lots of other counties across the state."
Thomas does not have an agenda he seeks when he comes in. "I don't have an agenda. I wanna make sure we don't waste our money, pay down the debt, and bring new jobs to this community. There's nothing you can do immediately. You have to be a good caretaker and make good decisions."
Regarding jobs, Thomas mentioned technology as an idea for job growth. He told the story of a friend who had two friends in Nashville. The kids of one of the fathers said his kids told him that they weren't coming back to Knoxville to work after graduating college because they said there were no jobs here.  "I think we're going to have to look at new technology," Thomas said. "Businesses need to have a reason to come here. We need to attract young people that want to come and live here and raise their families. That's how communities thrive. We've got to have a reason for these businesses to come here to employ these people. We need to find out what those businesses are going to be in the future and how can we best attract them. Maybe it's high-speed internet all throughout the area. We've got to be forward thinking," Thomas emphasized.
"We need a labor force that is intelligent, well educated, and can do great things," he stressed.
Thomas started working as a young man of 12 years old, doing a paper route. "I had 71 papers, and I was responsible for delivering them every single day. I wanted to buy a 10 speed bicycle. I decided I was going to work very hard and save up enough money to buy this bike.  I just assumed that when people owed you money, they just paid you when you went by to get it. You would be shocked to see how many people would avoid the paperboy or wouldn't pay. I had to pay for those papers that I delivered to their houses.  It taught me about business and people. " He worked at Volunteer Ballpark before he had the paper route and has been working solidly since then.
The impression Thomas wants to leave voters with is, "I'm always going to make myself available to listen to everybody's concerns. I want to bring all parties together so we can get things done and can make Knox County one of the greatest places in East Tennessee, if not the entire South, to live."
For more information on Bob Thomas, go to electbobthomas.com.