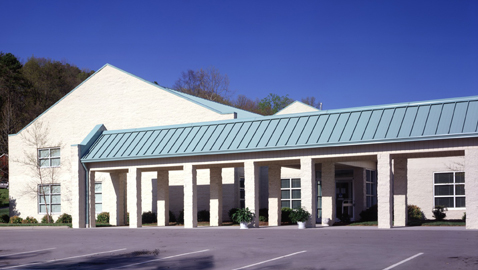 By Tasha Mahurin
Tasha@knoxfocus.com
Associated Therapeutics, Inc. has served the Knoxville community for nearly 30 years. The practice was founded by Andrew Smith, M.S., P.T. and Thomas Kelly, P.T. in 1985 and has grown to become one of East Tennessee's most trusted names in rehabilitation services.
In the early 1980s, Smith and Kelly both were working as physical therapists at area hospitals when the health insurance industry began to require shorter hospital stays.
"There weren't a lot of physical therapists in private practice at the time," Smith told The Focus. "We felt like there was a niche there for extended rehabilitative care and decided to take a chance and pursue that."
The practice grew steadily over the next decade, and in 1995, the partners decided to pursue another innovative goal.
"We wanted to design our ideal facility- complete with an indoor pool, classrooms, and a gym," Kelly said. "So we hired a Kentucky architectural firm who had done this type of work to design it."
Ironically, they purchased a property that was once home to Whittle Springs Resort. The resort, which was demolished in 1964, served as a retreat from city life in Knoxville during the early 1900s and included a hotel, golf course, and swimming pool. The property also contained mineral springs. At the time, mineral water was thought to have medicinal properties.
"There was a tradition of wellness associated with the property," Smith added. "It's a neat correlation, and the architects who handled the project paid homage to the resort's history in the design of our facilities."
Their location at 2704 Mineral Springs Avenue, includes the features both Smith and Kelly wanted to offer and is now home not only to a thriving physical therapy practice but also Jump Start Health and Fitness, a health club that offers a gym, land and aquatic fitness classes, and massage therapy.
From a physical therapy perspective, the practice has three full-time physical therapists including Smith and Kelly, who have a combined 76 years of experience, and Amber Zakrzewski who completed her doctorate in physical therapy in 2006. Many of their physical therapy patients become members of Jump Start Health and Fitness. Together, the three therapists specialize in the treatment of various neuromuscular, vestibular/balance, and orthopedic disorders.
"I started at Associated Therapeutics a couple of years ago after hip replacement surgery," said patient Linda Davis. "My therapy sessions helped me have a very successful recovery. After experiencing how helpful and friendly the staff was, I decided to continue there for my lifelong health needs. Their staff also designed a fitness plan for me which contributes to my continued success."
The fitness club serves adults of all ages, but is particularly popular among aging adults or those who might not be comfortable joining a traditional gym.
"We really focus on total wellness and lifelong fitness," Kelly Williams, who has a master's degree in exercise physiology, told The Focus.  His passion is helping people lose weight, and he and his staff specialize in developing a program for anyone, regardless of their health history. "We have a very comfortable environment no matter what fitness goal a member hopes to achieve or how much weight they want to lose."
The fitness staff includes three certified personal trainers with a variety of backgrounds and experiences, which, according to Williams, make them a great match for any fitness level. They also offer aquatic classes appropriate for people with arthritis and for those wanting an intense aerobic workout. Yoga and Zumba gold are also popular for those members who want a workout in the group fitness studio.
Their members agree.
"I have joined many gyms and fitness centers, but none of them ever made me feel as welcome," said Sherri Pinkston. "I feel like I have my life back."
For more information on Associated Therapeutics, call  (865)-687-4537 or visit  www.associatedtherapeutics.com.