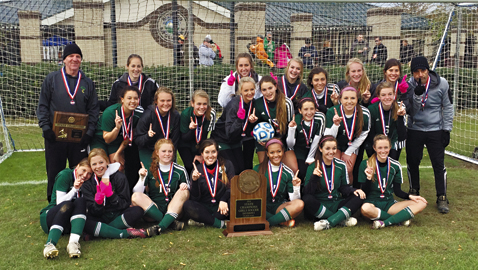 By Alex Norman
It was a chilly afternoon in Murfreesboro, but the Knoxville Catholic Lady Fighting Irish burned up the main field of the Richard Siegel Soccer Complex.
In a contest in which they were rarely challenged, Catholic (19-6) beat Notre Dame 4-0 to capture their second straight Class A-AA Championship in Saturday, November 1.
"I feel like we had the climax in this game, you know?  So it is everything that we worked led up to this moment," said Catholic junior forward Camille Mancini. "We had a rough start to the season.  I think we played the best we have all season in this game."
The Lady Fighting Irish nearly missed out on the opportunity to defend their state championship.  Following an easy 6-0 victory over Chester County in the quarterfinals, Catholic took on Chattanooga Christian in the semifinals.  Despite registering 15 shots on goal and giving up only one shot on goal, Catholic couldn't score through 80 minutes of regulation and 30 minutes of overtime.
The game and a berth in the state finals would be decided by penalty kicks.
It took 12 rounds to decide a winner, and Mancini's kick gave Catholic a 10-9 victory in penalties.
"That affected us a lot," said Catholic senior forward Ashley Hickman.  "We had been in PK's before but not in a state championship or something that mattered a lot.  So us having to go through overtime and sudden death and 12 PK's and a three hour game… I feel like that defined us for this (championship) game."
"I think it made us bond," added Mancini. "That made it feel like a state win in itself."
Catholic got a day of much needed rest before taking on the Notre Dame Lady Irish in the A-AA championship contest, and there was no fatigue problem whatsoever for Catholic.  Mancini ripped a shot into the net 12 minutes in to give Catholic a 1-0 lead.  There was initial confusion as the ball actually found a hole in the netting and ended up along a fence bordering the field.  But the referee saw the play perfectly and correctly called the goal good.
Hickman scored the game's next two goals, and Catholic took a 3-0 lead into halftime.
Midway through the second half Hickman picked up the hat trick with a blast into the near corner and the route was 4-0 complete.
"We made some mistakes the other night and I put a lot of pressure on them over the last day of rest about winning the game in the first half," said Catholic head coach Mark Leader. "What we did a couple of nights ago… we let the other team get in the game and we should never have done that, which almost cost us our state tournament but today we were prepared and we put so much pressure on them in the first few minutes and once we scored those few goals I knew it was a matter of running the clock out and we were done."
Hickman's soccer days are not complete.  She will play at the University of Cincinnati next year.
"I will miss her a lot," said Leader. "She is a very special young lady and she's got an extremely strong left foot, and she's a good part of this team and has been for the last three years that she has been with me.  I will certainly miss her."
As for the possibility of a Catholic three-peat in 2015?
"We lost eight seniors last year and this year we lost seven, said Leader. "But we'll be back."