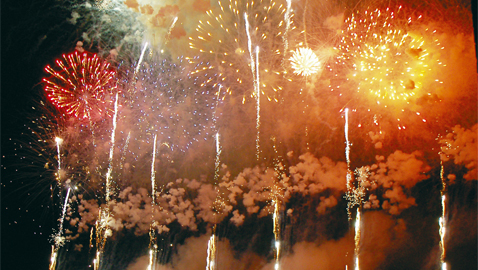 This September, the nation's largest Labor Day weekend Fireworks Festival will once again launch from the Henley Bridge for the first time in two years due to the construction and remodeling of the bridge since January 2011.
Visit Knoxville, the Tennessee Department of Transportation (TDOT), the City of Knoxville, and Pyro Shows have been working together over the past several months to determine the best launch site for the event.  After much discussion, the Henley Bridge was determined the best location.
"Boomsday is one of Knoxville's signature events, and it is very important to continue to provide our community with a top-notch event year after year" said Kim Bumpas, President of Visit Knoxville.  "We worked diligently with TDOT to determine the best location for the fireworks launch."
Like the past two years, the fireworks will be loaded in a staging area and transported to the launching area prior to the Festival.  This year, the fireworks will be loaded onto tractor trailer beds and rolled out onto the Henley Bridge.
"Launching from the Henley Bridge by using tractor trailer beds is similar to how we loaded and launched the show from railroad cars the past two years," said Mike Walden with Pyro Shows.  "The 22-minute fireworks show is self-contained and will feature more than 20,000 shells in the fireworks display."
"We realize the inconvenience the Henley Bridge project has created for businesses, travelers, and the entire city of Knoxville," said TDOT Commissioner John Schroer. "TDOT is pleased to work with our local partners, including Visit Knoxville and Britton Bridge, to help make Boomsday, one of the region's most anticipated events, a reality once again."
"Boomsday is a favorite tradition for many Knoxvillians and East Tennesseans," said Bumpas.  "It was very important for us to work with the City of Knoxville, TDOT, Britton Bridge, and Pyro Shows to ensure we put on the best show for our community.  We are excited to return to the Henely Bridge and continue the 26 year tradition."
The Boomsday Festival takes place on Sunday, September 1 from 1:00 p.m.  – 10:00 p.m. For more information, call the festival hotline at (865)342-9192 or visit www.boomsday.org.