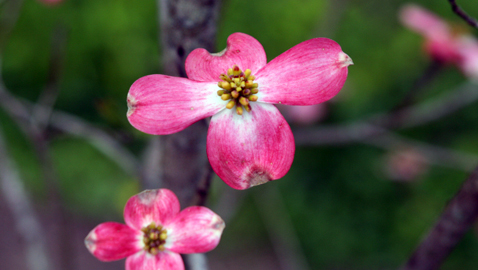 The dogwood blooms are fading away, but already plans are being made for 2015. Chapman Highway Dogwood Trail will be the Featured Trail next spring and the neighborhoods are excitedly brainstorming the best ways to showcase one of the City's oldest Trails.
Lake Forest Neighborhood Association is kicking off its second annual "Plant Pink" Landscape Improvement Contest. From May to October, residents are encouraged to submit a "before" and "after" photo demonstrating their efforts.
Molly Gilbert, Lake Forest Neighborhood Association President and Co-Chair for the Chapman Highway Dogwood Trail, said this contest is an effort to enhance the year-round beauty of this Trail, which is the prominence of Tennessee Pink Marble.
"It's like a scavenger hunt," said Gilbert. "Once you know what it looks like, you start to notice it everywhere. It's not just the houses, but also foundations, chimneys, retaining walls and outdoor patio BBQ grills."
Tennessee Pink Marble was a booming industry for Knoxville with over 35 quarries in the area. The first major quarry operations date back to 1838. Many beautiful buildings in Knoxville proudly wear Tennessee Pink Marble on their exteriors and interiors such as the Knoxville Museum of Art, Ramsey House, the Knoxville Botanical Garden and Arboretum, and the Historic U.S. Post Office Downtown. Pink Marble has been used in the National Gallery of Art in Washington, D.C., and New York's Grand Central Station and the iconic New York Public Library's lion statues at the entrance.
The skill level it took to do this type of masonry work simply isn't done anymore. True craftsmen who can work with the rough-cut and smooth-cut blocks are nearly impossible to find these days, but in the 1940s and 50s, there were a couple of builders who had good relationships with the remaining quarries and would haul off the debris to construct new homes stone by stone.
This construction style has been described as a picturesque, Neo-Tudor structure in the popular 'Cotswold' cottage idiom of the 1920s. (The Cotswolds are a range of hills in southwestern and west-central England, an area 25 miles across and 90 miles long. This beautiful gentle hilly countryside area has been designated as the Cotswold Area of Outstanding Natural Beauty.) Many of these stone houses can be found along the older Dogwood Trails such as the Chapman Highway Trail.
"I just fell in love with the arched doorway and the beauty of the neighborhood, but I had no idea it was Tennessee Pink Marble when we bought it," Gilbert said. "My insurance company did a homeowner's analysis of my coverage and their program said if anything were to ever happen, they simply could not rebuild it exactly the way it is because it is irreplaceable."
Located just three miles from Downtown, the Chapman Highway Dogwood Trail in South Knoxville includes two neighborhoods wooded with wild Dogwoods and Red Buds. Colonial Village and Lake Forest have always been quiet neighborhoods featuring modest, well-constructed homes, each with its own unique sense of charm. The cottage and bungalow style houses were built in the 1940s and 50s around the old McCall Farm pond, today known as Butterfly Lake.