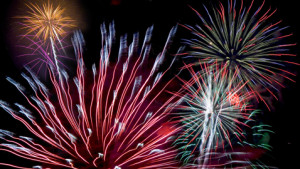 Fireworks, a Patriotic Bike Parade and a dramatic presentation from some daring individuals will be among the highlights of an old-fashioned celebration at the City of Knoxville's Festival on the Fourth, presented by OneMain Financial.
This year, activities get underway at 2 p.m. and continue through the evening with a Fireworks Spectacular at 9:35 p.m., which ends the daylong festival. The Knoxville Symphony Orchestra will perform during the fireworks show.
Regal's Star-Spangled Kids Zone will charm kids with face painting, balloons, inflatable bounce houses and slides. A Safety House, sponsored by the Knoxville Fire Department, will offer a hands-on opportunity for kids to learn what they should do in the event of a fire.
The celebration of America's 236th birthday isn't the only occasion being marked. The 30th anniversary of the World's Fair will also be celebrated within the festival.
"The 1982 World's Fair was a huge event for Knoxvillians, and we thought the Festival on the Fourth would be a fun and interesting way to mark the 30th anniversary of the fair," said Judith Foltz, Director of Special Events. "We hope everyone can come out to celebrate and share their memories with friends."
As part of the World's Fair celebration, the Carib Sound Steel Band will perform at 3:30 p.m. The group is part of the original band that played during the World's Fair. And at 6 p.m., Freddy Smith of WDVX will lead the audience in the popular World's Fair chicken dance at the WDVX Stage.
Like most Fourth festivals, this one will feature plenty of food. Moe's Southwest Grill and Petro's are two of this year's vendors; others will provide tasty treats like hamburgers, hot dogs, kettle corn, funnel cakes, frozen lemonade and more.
Around 7:30 p.m., brave members of the Knoxville Police Department and the Knox County Sheriff's Office will grab festivalgoers' attention with a dramatic presentation. Watch for it in the skies near the Sunsphere.
For a complete list of activities and the music lineup, go to: http://www.cityofknoxville.org/events/4th/.