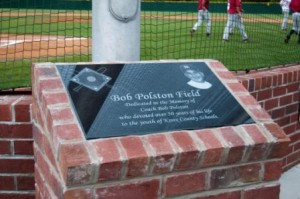 By Ken Lay
The Halls High School baseball field now has a new name.
It was recently dedicated as Bob Polston Field recently before the resident Red Devils outlasted Morristown East 7-6 in a game on Friday, March 31.
Polston, father of Halls High baseball coach Doug Polston, coached baseball and football at Rule, Austin-East and East High School.
Bob Polston, who was named KFL Coach of the Year four times (1969, 71, 73, 76) remained active in Knox County athletics after his coaching career.
He served as athletic director for the Knox County School System until he retired in 2004. Bob Polston died in August and members of the Halls Community approached Doug about dedicating the field in his father's honor.
"A member of the community came to me with this idea," Doug said. "And I got donations from as far away as Illinois from people who didn't even play for him.
"I knew that that night would be emotional for me and it was. This is a fitting tribute to a great man."
Bob never coached at Halls High but spent the later years of his life at the school's baseball diamond. He dragged the infield, mowed the grass and could always be found tending to the pitcher's mound after games. He also was there to encourage players.
Doug noted that his father wouldn't much care for having the field named in his honor.
"If he were here, he'd scoff at this," Doug said of his father, "But this is a great honor for a man who helped a lot of kids. He was a coach for 21 years and an administrator for 28 years."
Bob Polston often sat behind home plate at Halls. A monument in his honor now has a home there.
"His buddies really wanted to do this for him and I'm glad they talked me into this because that is a beautiful monument," Doug said.