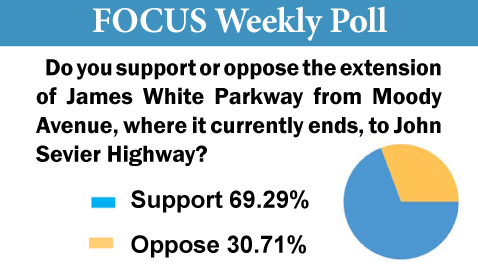 By Focus Staff
Since the first Knoxville Focus poll revealed a majority of South Knoxvillians support an extension of the James White Parkway, a wave of stories have appeared in local news media.  A host of politicians quickly announced their opposition to an extension of the Parkway, including Mayor Madeline Rogero, Vice Mayor Nick Pavlis, and Knox County Mayor Tim Burchett.
Likely voters were asked, "Do you support or oppose extension of James White Parkway from Moody Avenue, where it currently ends, to John Sevier Highway?"
While the numbers were down about 10% from the original poll, almost 70% of respondents still say they favor extending the James White Parkway.  The survey was conducted in all of the South Knoxville polling precincts and most of the opposition to extending the Parkway has been centered inside the City of Knoxville, although the poll shows majorities favoring the extension inside city precincts.  Big majorities were posted outside the city limits for extending the parkway.
The results are somewhat surprising since the extension has received virtually no favorable publicity from any media outlet in Knoxville.
Please click here to view the poll's full results.