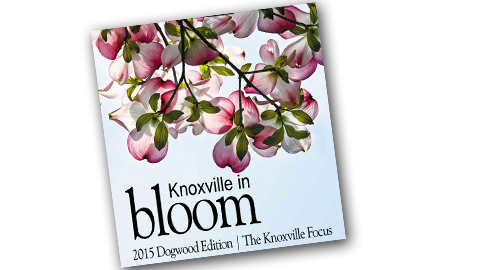 This year, Dogwood Arts will feature up to a dozen different events throughout April for residents and visitors to experience, from local art exhibits and open gardens to live music and performances. The celebration will kick-off on Wednesday, April 1 with A Very Special Arts Festival, a one-of-a-kind event celebrating Knox County students with diverse abilities and the various artistic skills they are learning in the classroom, and concluding with Bikes & Blooms on April 25-26, which features a scenic 8-mile bike ride each day through various neighborhoods and tranquil settings near downtown Knoxville.  Additional highlighted events include:
Rhythm N' Blooms – April 10-12 :: Venues along Jackson Avenue (The Old City)
In just six years, Rhythm N' Blooms has become one of the fastest-growing events during Dogwood Arts' April celebration, standing on its own as a landmark weekend in Knoxville's vibrant and growing music scene. With the stages now set exclusively along downtown Knoxville's Jackson Avenue in the Old City, Rhythm N' Blooms has an undeniable atmosphere of urban creativity and historic flair. This year's musical lineup will showcase chart-climbers, first-timers, and highly-lauded acts from varied musical backgrounds with a large percentage having Knoxville-based roots.  The Decemberists, The Dirty Guv'nahs, Delta Spirit and Drive-by Truckers are just a few of the acts set to perform.
ADMISSION:  Day Pass: $30 | Weekend Pass: $60 | VIP Pass: $125
Tickets available for purchase online at www.rhythmnbloomsfest.com
Chalk Walk – April 11 :: Market Square & Krutch Park (Downtown Knoxville)
The Chalk Walk celebrates its seventh year and remains one of the fan favorites among Dogwood Arts visitors each April. The street painting festival, whose origination as a featured event of Dogwood Arts drew inspiration from a 16th century Italian happening, turns Knoxville's downtown sidewalks into a seemingly infinite canvas for the region's most talented professional and student artists.
ADMISSION:  Free
Dogwood Art DeTour – April 11-12 :: Artists' studios throughout the area
Dogwood Art DeTour provides an intimate look into local artists' working studios. Visitors are invited to watch as the artists produce some of East Tennessee's spectacular works of art while a variety of artistic media will be on display showcasing the diverse talents that are present in this area. All studios will have completed works of art for sale.
ADMISSION:  Free
Dogwood Arts Festival – April 17-19 :: Market Square & Krutch Park (Downtown Knoxville)
With quality arts and crafts booths, arts in action, performing arts, culinary arts demonstrations and tastings, and an expanded children's creation station, several blocks of downtown Knoxville will be transformed into a lively three-day street fair with more than 60 local and regional juried artists exhibiting and selling their original work. In addition to the artist areas in Market Square and Krutch Park extension, attendees can enjoy cooking demonstrations, festive food creations, and delicious wine and beer pairings at the Culinary Arts Stage. There will also be live performances all weekend long on the Market Square stage, the Union Avenue pop-up stage, and the Children's stage, including an act from the world's only professional identical twin Harp Duo. Additionally, Blooming Boulevard returns to the Dogwood Arts Festival this year providing unique colorful flower markets filled with live, blooming plants, herbs, flowers and trees.
ADMISSION:  Free
Further events to highlight the month-long celebration include:
Featured Open Gardens – Unique gardens will be open for private tours the weekend of April 25 & 26.
Dogwood Trails and Open Gardens – Take a stroll, bike ride or run through these specially selected, South Knoxville gardens during the peak blooming season in April.
Art in Public Places Knoxville – Displays of large-scale sculptures will be on year-long exhibit in Downtown Knoxville and McGhee Tyson Airport.
For more information, visit www.dogwoodarts.com or call (865)637-4561.