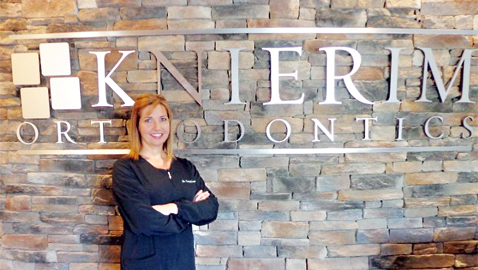 By Mike Steely
steelym@knoxfocus.com
Kristin Knierim didn't start out to be an orthodontist; she was thinking of becoming a veterinarian or a researcher. She was raised in Knoxville and attended Knoxville Catholic High School.
"I thought about becoming a veterinarian and also thought about my love of English and in research," she said. "But I wanted to work with people."
Having done research at UT she missed the social interaction with people.
She attended Emory University and got a degree in Biology.  Somewhere along the way she decided to become a dentist.  She attended the University of Tennessee and received a doctorate in Dental Science and, in 2005, earned a Masters Degree in Orthodontics from Indiana University.
The decision to become an orthodontist pleased her late father very much. He was Dr. Rupert Knierim and was an orthodontist in Fountain City for more than 30 years.  Dr. Kristin Knierim has been in practice in Knoxville now for more than 9 years, has two offices, and is married with three children, two dogs and three horses.
She became the first woman Orthodontist in Knoxville and has been published in the American Journal of Orthodontics for her research. Dr. Knierim attends continuing education courses in her field throughout the year and is always current with the latest tools and changes.
"I don't treat every case the same because everyone is an individual," she says as she explains how she improves a person's health by moving teeth around with to create a balanced face.
Dr. Knierim's patients are often referred by a patient's general dentist. Sometimes new patients come directly to her, if for instance, they move to the area and know they have an orthodontic problem. She also said that many of her patients come as referrals from existing patients.
"I've helped people from 8 years old to those in their 70s," she said. Dr. Knierim talked about one man who had "crowded teeth" and how she has worked with him to correct the problem. It was a problem that, until now, might have required surgery. She also discussed some of the new tools she is using, including a "TAD" or temporary anchor device that help keep teeth in place while allowing for another tooth to move and fill a gap.
"She offers personalized treatment with a friendly staff of professionals. I liked being involved in the process. My husband was the first to come here and now my two boys and I are being treated. She's a perfectionist!" said Sonia Holas, a patient and marketing agent.
Holas said she had a hidden cavity that wasn't found until Dr. Knierim's braces moved the tooth around and it was discovered.
"I get to know my patients, get to know their families, and the patients are so excited when the braces come off and love their 'before and after' photos," she explained.
"We look at the patients as a whole now. Orthodontic treatment has changed tremendously. For instance, in the past, it was common to extract teeth before orthodontics but now that is different," Dr. Knierim said.
Knierim Orthodontist has two locations: 2099 Thunderhead Road near Northshore Town Center and at 1703 Callahan Road in North Knoxville. The Thunderhead office telephone number is 522-7572 and the Callahan Road office can be called at 947-8700. You can also find more information on the internet at www.knoxvilleorthodontics.com.