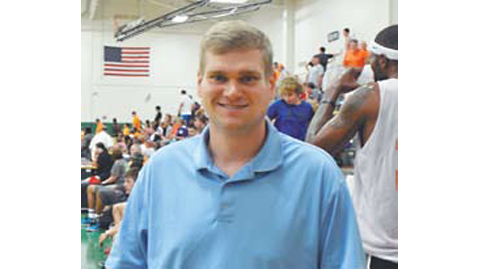 By Ken Lay
The Pilot Rocky Top Basketball League provides Zane Duncan the chance to pursue one of his many athletic passions for three weeks during the summer.
"Basketball is in my blood and this is a way for me to stay involved in the game," said Duncan, who is a fifth-year coach in Knoxville's premiere summer basketball league. "I thought I wanted to be a basketball coach but I didn't really want to leave home."
Duncan coaches the Pilot Rocky Top League's Knoxville News-Sentinel team. He's the son of Tennessee Representative Jimmy Duncan.
Zane has a passion for basketball but the 2004 Farragut High School graduate didn't play high school basketball for the Admirals. Then, he was into pursuing other passions in fishing and hunting.
"I played all the sports growing up," Duncan said. "I played baseball, football and basketball and I had a brief stint in soccer but it wasn't for me.
"I didn't play basketball in high school because I was into hunting and fishing. "I'm an outdoorsman."
It wasn't until he went to Lincoln Memorial University that he rediscovered his passion for basketball.
"When I went to LMU, I started as a manager for the basketball team and I worked my way up to being a student assistant coach," Duncan said.
Duncan has also coached AAU basketball, but he took the long hard road in college basketball.
"There were a lot of late nights washing uniforms," he said. "We were the guys who got up early and did the dirty work and we were almost always the last ones to leave.
"It was hard but that's an integral part of college basketball."
Duncan is now married and has a 16-month old son and he works as a public relations officer for an area short-line railroad company. Those aspects of his life keep him busy.
But he still finds time for sports. In addition to coaching basketball, he plays golf and tennis.
"I play golf and tennis once in a while he said. "But I have a wife, a son and a dog and that keeps me pretty busy.
"The NBA Finals Games came on just after nine o'clock and I got my son to bed and got to enjoy some of those games."
He's become a fan of the San Antonio Spurs, the 2014 NBA World Champions, who play a unique brand of team basketball.
"I like the Spurs because I love teams who play team basketball," he said. "In pro sports, you have a lot of superstars," he said. "I love [San Antonio forward/center] Tim Duncan and I love [Spurs' coach Gregg] Popvich and I like a lot of coaches."
Zane Duncan remains an avid outdoorsman and he plans on passing his love of the outdoors to his son soon.
"I pretty much love anything to do with the outdoors and I plan on sharing that love with my son," he said.
Basketball may be his biggest sports passion. But he's a NASCAR fan. He also loves baseball and football. His family has held season tickets for the Washington Redskins. His grandfather (John Duncan Sr.) first bought those in the 1960s.
Zane once had an internship in the airline business in Washington, D.C. He began working in the nation's capital when the Montreal Expos relocated to Washington and became the Nationals and he became a fan.
He still roots for LMU and is a fan of the University of Tennessee's teams.
"I root for my alma mater but other than that, Tennessee is my only college team," he said.
Like all of the Rocky Top League coaches, he looks forward to the three-week season and the draft.
"It [the draft] is the one time that we all get to sit around and socialize with each other," Duncan said.