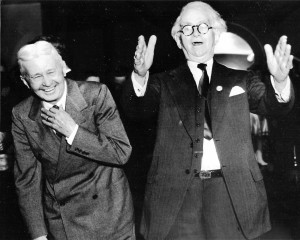 Edward Hull Crump, in partnership with U. S. Senator Kenneth McKellar, began his domination of Tennessee politics in 1932.  Crump was then a member of Congress, although he served for only four years.  The Memphis Boss announced he would not be a candidate for reelection in 1934.  Crump had not especially enjoyed serving in Congress and disliked being away from his home and family.  Crump and his wife Betty had three sons and even the Boss's most virulent critics acknowledged Crump genuinely loved and was loved by his family.  E. H. Crump probably disliked being in Washington, D. C. for another reason; he was one of several hundred members of Congress and while his authority in Memphis was relatively unchallenged, he wielded no real power in the nation's Capitol.  Crump could not help but notice the contrast between his own position in Congress to that of Senator McKellar, who was one of the most powerful members of the United States Senate.  McKellar's own political organization spanned from one end of Tennessee to the other, while Crump's sphere of influence was centered in Memphis and Shelby County.
Crump was going home to Memphis, although not before choosing his own successor.  Mr. Crump picked Walter Chandler to succeed him in Congress.  Chandler has served in both the House and Senate chambers of the Tennessee General Assembly, as well as City Attorney for Memphis.  Having designated his successor, E. H. Crump returned to the Bluff City to resume his own place as the undisputed leader of the Shelby County machine.
The 1934 elections were the first test of the power of the McKellar – Crump combine.  Governor Hill McAlister and Senator McKellar were both up for reelection and Tennessee's other Senate seat was on the ballot due to the fact Senator Cordell Hull had been picked by President Roosevelt to serve as Secretary of State.  Hull's resignation from the Senate allowed Governor McAlister to fill the vacancy by appointment.  McAlister appointed former Tennessee Supreme Court Justice Nathan L. Bachman, a choice that was reputedly highly pleasing to Senator McKellar.
McAlister was once again challenged by Lewis Pope in the primary, while interim Senator Nathan L. Bachman faced West Tennessee Congressman Gordon Browning.  Browning had seriously considered running against McKellar, but later confessed he could not obtain a single commitment of substantial support against the powerful senior senator.  Browning opted instead to compete against the far less formidable Bachman.  Crump came out strongly for McKellar, McAlister and Bachman.  The three ran as a ticket inside the Democratic primary.
Pope again ran largely against the Crump machine, but lost by almost fifty thousand votes.  Congressman Gordon Browning lost to Senator Bachman, although he ran a credible race.
Two years earlier, a bitter Lewis Pope had engaged in a lengthy correspondence with Senator McKellar complaining about the results of the Democratic primary, while seeking McKellar's help in securing a high paying Federal job.  McKellar responded politely, though frequently pointedly, to Pope and went about seeking a Federal position for Pope.
As usual, McKellar had some success in finding a job for Lewis Pope, but apparently Pope grew impatient and the job never came through.
Despite having lost by a much larger margin, Pope once again bolted the Democratic Party to run as an Independent in the general election.  Pope allied himself with former Governor Ben W. Hooper, a Republican, in an attempt to revive the old "fusionist" combine of Independent Democrats and Republicans.  Hooper was trying yet another comeback by challenging Senator McKellar, who had beaten him eighteen years earlier.
Pope ran a better race in the general election than Hooper, but still lost decisively.  McKellar crushed Hooper to win his fourth term in the Senate.  The McKellar – Crump axis had survived its first political test with flying colors.  Lewis Pope would sporadically reappear from time to time in Tennessee politics, but after having left his own party twice in as many elections, he was finished as a candidate.
In 1935, Governor McAlister, facing increasing budgetary problems, proposed a sales tax, outraging Crump who was fiercely opposed to any such tax.  Crump broke with McAlister and denounced him as one of the "sorriest" governors in Tennessee history.  McAlister, wanting a third term in 1936, hoped the breach with Crump could be healed, was disappointed to discover the Memphis Boss would under no circumstances support him again, despite an appeal on his behalf by Senator McKellar.Once again, the McKellar – Crump alliance seemed to be threatened.  The Memphis Boss made no move to offer support to any prospective candidate for governor while McKellar decided to support Burgin Dossett.  Dossett was an official with the Social Security Administration in East Tennessee and had received the appointment through McKellar's patronage.  The gubernatorial contest soon boiled down to former Congressman Gordon Browning and Dossett.  Browning was completely unacceptable to Senator McKellar who still resented the fact Browning had quite nearly run against him in 1934.  McKellar also rightly suspected Browning still harbored senatorial ambitions and did not want to do anything to promote a Browning candidacy.  Clearly the best course for McKellar was to remove Gordon Browning from the political scene by defeating him for governor in 1936.
The campaign was well under way when E. H. Crump made an announcement that shocked many of his associates, but stunned Senator McKellar.  Crump endorsed Browning.  Newspapers gleefully questioned whether the Memphis Boss had finally broken with his old ally McKellar.  The Senator hotly denied any such break, but was angry and hurt by Crump's endorsement of Browning.
Gordon Browning won an overwhelming victory in the Democratic primary, receiving a huge vote in Shelby County.  Crump may have wished to send Senator McKellar a message by demonstrating his own political power or he may well have simply endorsed Browning because it seemed more likely Browning was going to win the nomination in any event.
Whatever pleasure or satisfaction the Memphis Boss derived from Browning's election was short lived.  Crump became uneasy when the new governor announced several appointments to his administration, among them Lewis Pope who had been installed as a special tax collector for the State of Tennessee.  Crump loathed Pope who had twice left the Democratic Party to challenge the legitimate nominee in the general election.  Pope had also been a virulent critic of both Crump and the Memphis machine.  Other Crump opponents joined the Browning administration, much to the Memphis Boss's dismay.
When Tennessee's junior United States Senator Nathan L. Bachman died of a sudden heart attack on April 23, 1937, only three months into his new six-year term of office, it was up to Governor Gordon Browning to fill the vacancy.  Browning came to Memphis to confer with Crump about the senatorial appointment and it proved to be a fateful meeting that would ignite bitter internecine warfare inside Tennessee's Democratic Party.
The meeting between Crump and Browning was private and the only accounts are those of the participants and neither agreed entirely upon the details.  Each man had his own version of the story, but it seems apparent Browning proposed to run for the United States Senate himself in 1938 and in turn offered to support Crump against McKellar in 1940.  Furthermore, Browning indicated Lewis Pope should be the gubernatorial candidate in 1938.  Crump was astonished by the governor's proposal and pointed out had Browning wished to see him in the Senate, he could appoint him to the vacancy caused by Senator Bachman's death.  Gordon Browning's highest political ambition throughout his career was being elected to the U. S. Senate and Crump's version of the meeting seems more credible.  Browning miscalculated if he truly believed Crump would run against his old ally Senator McKellar.  While Crump certainly could have carried Shelby County in any race he made, the McKellar organization would have strongly supported the senator for reelection and McKellar would likely have been the beneficiary of getting support from Crump opponents that ordinarily would have opposed him.  Furthermore, Crump did not especially like Washington and while he very well may have hoped Browning would formally offer him the appointment to Bachman's seat, the Memphis Boss would likely have turned it down.
Browning further miscalculated that there was any circumstance that would cause Crump to support Lewis Pope for any office.  Governor Browning, when the news of the meeting became public, retorted the Memphis Boss was lying and simply mad because Browning had not offered to appoint him to the Senate.
Browning, knowing his own alliance with E. H. Crump and the Shelby County machine had come to an end, took bold steps to make the machine politically impotent.  Browning proposed the legislature adopt a county unit bill, similar to the national Electoral College, giving each Tennessee county a certain number of votes, making the actual popular vote meaningless.  It would have the effect of negating the huge vote Crump was able to produce for his favored candidates.  Browning also set out to seize complete control of the election machinery in the state.
Crump was caught by surprise and while he recognized the threat to his own political power, he found himself in the uncomfortable position of having to appeal to Senator K. D. McKellar for aid in what promised to be a fight with Gordon Browning that would go the length of the bar and out into the street.