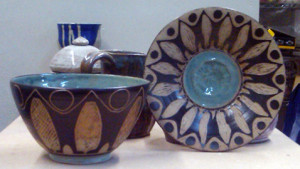 By Sylvia Williams
Is there a frustrated sculptor or potter lurking just beneath your calm exterior? If so, now is the perfect time to enroll in a class at the Fountain City Art Center. The Center has just added four new classes: Clay Busts, Clay Figures, Advanced Wheel Pottery, and Advanced Hand Building. Two new and highly qualified instructors have joined the teaching staff: Amy Hand and Michael Robison. Amy will instruct sculpting classes beginning Tuesday mornings, September 25 and Wednesday evenings, September 26. Michael will be offering the advanced clay techniques for both hand thrown pottery and hand building also beginning in late September, Mondays or Thursdays. For more information on these and other classes and workshops, check the website, call, email, or come by: www.fountaincityartctr.com; 865.357.ARTS; fcartcenter@knology.net; 213 Hotel Avenue in the old Fountain City Library building next to the Park. Hours: Tu, Th 9-5; W, F 10-5; 2nd, 3rd, and 4th Saturdays, 9-1.
The Center is also offering a leather mask making workshop instructed by Diane Corey on Thursday, October 11 from 10:30 a.m. to 3:30 p.m. with a one hour lunch break. The workshop cost for Center members if $60, $70 for nonmembers. Email the Center if you'd like to receive photos of Diane's work or are interested in signing up for the workshop. Diane had a leather shop in West Knoxville until recently, but she has more time for teaching now.
The Art Center is also taking applications for artists and craftsmen and women who would like to rent booth space during Art-a-palooza, especially for Saturday, October 6, just outside on Center grounds. Art-a-palooza is in its 8th year, offering family art activities, music, food, a three day silent auction, artists demonstrating on site, and a wide array of artwork and decorative items at bargain prices! Art-a-palooza will be held from October 4 through October 6. Don't miss it!