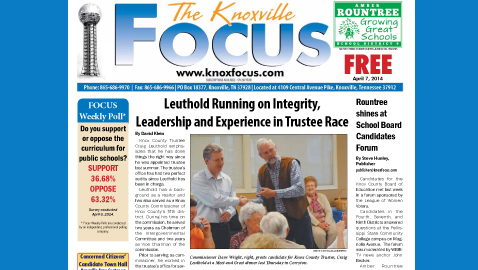 Click here to view this week's Focus.
Rountree shines at School Board Candidates Forum
By Steve Hunley, Publisher
publisher@knoxfocus.com
Candidates for the Knox County Board of Education met last week in a forum sponsored by the League of Women Voters.
Candidates in the Fourth, Seventh, and Ninth Districts answered questions at the Pellissippi State Community College campus on Magnolia Avenue.  The forum was moderated by WBIR-TV news anchor John Becker.
Amber Rountree and incumbent Board member Pam Trainor are the candidates for the Ninth District, which is South Knoxville and South Knox County.  Sally Absher and Jeffrey Scott Clark are running against incumbent Lynne Fugate in the Fourth District, which includes parts of West Knoxville and Sequoyah Hills.  Patti Lou Bounds is unopposed in the race for the Seventh District seat, which is being vacated by incumbent Kim Sepesi.
Rountree's campaign has caught fire in South Knoxville and the spunky newcomer is running for office the first time.  By profession, a librarian at Halls Elementary School, Amber Rountree does not hide her opposition to Superintendent Jim McIntyre, which is a stark contrast to the record of Trainor who has followed McIntyre's lead lockstep. Rountree points out she will most certainly not be a "rubber-stamp" for McIntyre and his administration.
Sally Absher surprised some, making an articulate and thoughtful presentation.
"I want to be a voice for students, teachers and taxpayers," said Absher.  "They have concerns and the perception is that the Board does not take those concerns seriously."
Clark echoes many of the concerns articulated by Sally Absher.
"I have three major concerns.  One is teacher morale.  Another is the Common Core standards and the other is the teacher evaluation system."
Fugate seemed nervous and her voice quivered frequently as she spoke. The incumbents acknowledged that communication has been an issue.
"It's about communicating with your community and we hear different things from different people and that makes it very difficult to make hard decisions," Fugate said.  "We have to have more forums with our community.  Knox County Schools has changed and we've addressed as many of those changes as we could but we have to talk to each other and to work together."
Amber Rountree noted in an interview the incumbents have been in office for four years and have had every opportunity to hold community meetings, but have not done so.
"I appreciate their sudden concern, but I can't help but feel the incumbents would have a better understanding of their own constituents' feelings had they realized they should be out in the community sooner," Rountree said.
Fugate is the Chair of the Knox County Board and despite her warm and fuzzy statements about cooperation and working together, some believe she has ruthlessly utilized the Chair's power to stifle opposition to McIntyre.  Some teachers noted Fugate cut off one student who was speaking against McIntyre and his administration.
Mike McMillan, East Knox County's member of the Board of Education and recognized as McIntyre's lone critic on the Board, said, "It really does seem the folks appearing before the Board who are supportive of Dr. McIntyre are treated a little better than those who are critical. Perhaps that is just my own perception, but it's what I believe."
McMillan has been the source of ire from his colleagues on the Board, who have tried to not so subtly punish him for his refusal to go along with the administration.
Every member of the Board of Education voted to extend McIntyre's contract for another year when it had three years left to run except for McMillan.  The Board's action set off a storm of protest from many parents and teachers.  Considering that McIntyre's current contract had three more years to run, even supporters did not understand why McIntyre insisted on seeking an extension.
"I suspect Dr. McIntyre wanted a vote of confidence from the Board," Mike McMillan says.  "Of course he got it, but it was completely unnecessary."
Both Fugate and Trainor voted to extend McIntyre's contract to four years, which is the maximum allowed under state law.
Several candidates expressed concern about the excessive testing implemented by McIntyre and the Board.
"We are testing our children to death and I would roll back testing," Sally Absher told the audience.
Jeffrey Scott Clark agreed.
"We spend twenty days preparing for testing and that's about ten percent of the school year," Clark said.  Clark is a former educator as well as a veteran of the United States Air Force.  "We're taking time away from teaching our children and what I'm finding is that [the students] are starting to dislike education.
"I think the whole system is unfair.  Our kids need to learn and play."
Amber Rountree, a professional educator, said she believes children are bothered by the excessive testing.
"The kids are nervous and they come in crying during the week of the TCAPS," Rountree said.
Patti Lou Bounds pointed out she would do her best to change the current teacher evaluation system, which evaluates many educators and educational professionals by people outside their own area of expertise.
"I would eliminate the K – 2 evaluations," Bounds flatly said.  Bounds is a kindergarten teacher at Brickey – McCloud Elementary School.  "We now have an academically-based kindergarten and some children are ready for that, but some aren't."
Both Trainor and Fugate were supportive of Common Core, while the challengers were skeptical of the program.
"I don't know if Common Core standards are good or bad, but I know that they were meant to be a road map and not standards," Patti Lou Bounds said.
Jeffrey Scott Clark said he is opposed to Common Core standards.
"It was a knee-jerk reaction because they knew something had to be done and they really didn't know what to do," Clark said.  "They did it to get federal money."
McIntyre's leadership was the subject of discussion and some acknowledged growing discontent with the superintendent's direction.
Amber Rountree stated, "We have seventy percent of the teachers who distrust [McIntyre's] leadership and when you have seventy percent of your people on the ground distrusting your leadership, then something has to be done."
Many of those attending felt the challengers had made an impressive debut and the incumbents may well be crippled going into the elections by carrying the burden of a record of almost blind support for Jim McIntyre.
"That's their record," Mike McMillan said, "and now they have to defend it.  They can talk about working together all they want, but that's not their record."