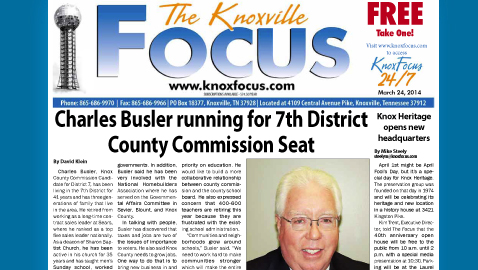 Please click here to view this week's Focus online.
Charles Busler running for 7th District County Commission Seat
By David Klein
Charles Busler, Knox County Commission Candidate for District 7, has been living in the 7th District for 41 years and has three generations of family that live in the area. He retired from working as a long-time contract sales leader at Sears, where he ranked as a top five sales leader nationally. As a deacon of Sharon Baptist Church, he has been active in his church for 35 years and has taught men's Sunday school, worked with Habitat for Humanity, and coached Upward Basketball.
In attending area meetings, Busler had some people come to him and asked if he would run. "I wanted to help the community. I have always thought that's what you should do. I want to give something back."
Busler's career with Sears in contract sales has given him valuable experience in working with local, state, and federal governments. In addition, Busler said he has been very involved with the National Homebuilders Association where he has served on the Governmental Affairs Committee in Sevier, Blount, and Knox County.
In talking with people, Busler has discovered that taxes and jobs are two of the issues of importance to voters. He also said Knox County needs to grow jobs. One way to do that is to bring new business in and do everything possible to help existing businesses.
"New and existing business growth will hold other taxes down and may even reduce taxes if we can achieve additional growth here in Knoxville," he stressed.
When it comes to taxes, Busler said "We have to have a fiscally responsible government so that people can keep more of the money they earn." Busler added.
Busler also places a high priority on education. He would like to build a more collaborative relationship between county commission and the county school board. He also expressed concern that 400-600 teachers are retiring this year because they are frustrated with the existing school administration.
"Communities and neighborhoods grow around schools," Busler said. "We need to work hard to make communities stronger which will make the entire county stronger."
"It is important that people have a sense of involvement," he continued. "They want a representative who will listen to them and take their feelings and issues seriously and will have the dedication to stand up and speak for them. In addition, I will communicate with my constituents as to how tax money is spent and make sure they know that each tax dollar we spend is being used efficiently and effectively."
The primary election is May 6, and there are no Democrats or Independents running in the race. The winner of the primary will be District 7 County Commissioner. For more information on Charles Busler, go to charliebusler.wix.com/countycommissioner.