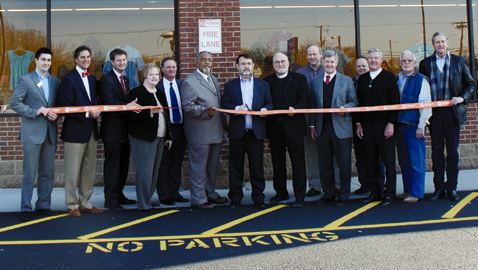 Just shy of 42 years of service, Goodwill Industries celebrated the opening of its newest location at 5412 Pleasant Ridge Road last week. The 28th retail location for Goodwill Industries-Knoxville is adjacent to the vocational training center. This 43,000 square foot facility will allow the organization to nearly double its Industrial Services Division.
Goodwill Industries-Knoxville exists to provide vocational services and employment opportunities for people with barriers to employment, and one of the many ways they do that is through their Industrial Services Division (ISD).
The ISD training program allows participants the opportunity to operate specialized equipment such as a heat sealer or heat tunnel, shrink wrapping, binding tools, and pallet jacks. Participants are trained in areas of processing, packaging, shipping and quality control within an industrial contract environment while earning a training wage.
In 2012, Goodwill Industries-Knoxville served 4,680 individuals and facilitated 4,360 positive program completions throughout its 15 county service area in East Tennessee.
"I think looking at Goodwill's history they are a very effective and efficient organization," said Knoxville's Director of Community Relations and former county commissioner Tank Strickland who was present to help cut the ribbon on the new location.
Goodwill directors hope the location will enhance the vibrancy and retail environment in the northwest Knoxville area.
"Within the community they offer a good store with good items at a good price and the training facilities here are phenomenal," Strickland added.
Also this month, The Volunteer Income Tax Assistance (VITA) program is providing free tax assistance at the Goodwill Industries located at 5307 Kingston Pike. Assistance will be provided from 10 a.m. until 4 p.m. Tuesday through Saturday until April 13th.
Last year, VITA did 1300 returns in the time they were at Goodwill. Since the start of the program this year on January 29th, VITA has done over 700 returns for community members, totaling over $1.5 million dollars in refunds and is run by certified volunteers who offer free tax assistance to prepare returns for low to moderate income families who cannot prepare their own tax returns. Goodwill Industries-Knoxville will celebrate 42 years of service at the 42nd Annual Knoxville Awards Luncheon to be held at the Hilton-Downtown on April 3rd. The event is scheduled to begin at noon, with awards and a lunch. At this event, Goodwill Industries-Knoxville will honor employees, individuals, community members and surrounding area businesses that contributed to their success in 2012. Tickets are $20 and include admission to the awards presentation and lunch.