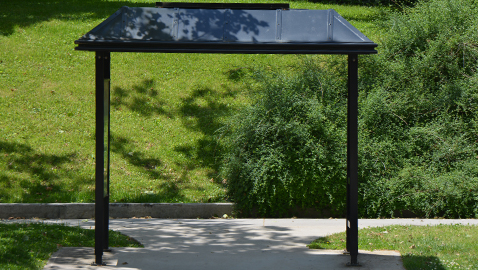 By Hubert Smith
KTA Commissioner
Last year when the flagship campus of The University of Tennessee announced it was no longer contracting with Knoxville Area Transit to provide services to its campus, very few eyebrows were raised. Now it's a full-blown political issue about KAT shelters on the UTK campus.
Last year UTK signed a five-year contract worth $18 million with First Transit, a division of Greyhound owner FirstGroup America, replacing KAT ending a 10-year relationship. From the beginning UTK knew that KAT could not meet its requirements because KAT is publically funded and lacks the luxury of dedicating 20 buses to UTK to be their private service.
Nobody in the city administration complained when UTK chose somebody else. Instead, the KAT administration responded by creatively designing a way to prevent layoffs and greatly improve transit service throughout the city simultaneously.
It seemed like a blessing in disguise for the riders of KAT and the City of Knoxville. For many years KAT has wanted to expand service and offer more frequent service, such as every 15 and 30 minutes along its main corridors. First Transit begins service on UTK's campus on June 1, and KAT's expanded service begins throughout the city June 3.
All seemed well until May 22, three days before our April 25 monthly board meeting. We were transmitted a one-page Resolution to vote upon donating 10 shelters on the UTK campus that KAT purchased to serve our riders.
I serve as one of nine commissioners on Knoxville's Transit Authority. I was appointed by Mayor Rogero and ratified by city council. Some other members were appointed by previous administrations.
After much debate, I made a substitute Motion to post pone for 30 days so we all could see the shelters in question. The substitute Motion failed 5-3 and the main Motion to approve passed 7-1. My vote was the no vote with only eight commissioners present. My position was then and remains that First Transit, fresh with an $18M contract can purchase their own shelters just like KAT did when we had the service contract for UTK.
Last Tuesday's city council meeting this item was on the agenda. Myself, and three other citizens spoke in opposition to the city giving away these shelters worth $4K each. They were Jim Jennings; Umoja Abdul Ahad; Rick Roach, with Evelyn Gill and Anthony Hancock in attendance supporting our position.
KAT's general manager, Cindy McGinnis and Mark Hairr another KTA Commissioner spoke in favor of donating the shelters. For the record, Mark Hairr is now Director of Parking & Transit Services for UTK and former general manager of KAT. He was directly involved in crafting the contract for First Transit.
In the end our city council voted unanimously 9-0 to postpone for two weeks until the next council meeting. This is what I asked for during the KTA Board meeting.
This could be a great campaign issue for somebody who will stand up for the common woman and man. If you ride KAT and stand out in wind and rain then you know that we need those shelters!
We paid for them!