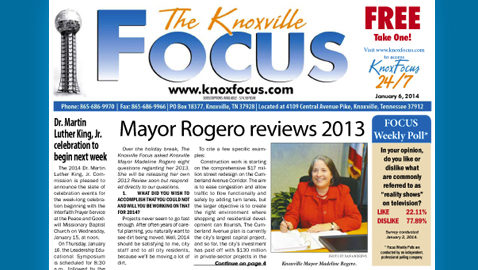 Click here to view this week's paper.
Mayor Rogero reviews 2013
Over the holiday break, The Knoxville Focus asked Knoxville Mayor Madeline Rogero eight questions regarding her 2013. She will be releasing her own 2013 Review soon but responded directly to our questions.
1. WHAT DID YOU WISH TO ACCOMPLISH THAT YOU COULD NOT AND WILL YOU BE WORKING ON THAT FOR 2014?
Projects never seem to go fast enough. After often years of careful planning, you naturally want to see dirt being moved. Well, 2014 should be satisfying to me, city staff and to all city residents, because we'll be moving a lot of dirt.
To cite a few specific examples:
Construction work is starting on the comprehensive $17 million street redesign on the Cumberland Avenue Corridor. The aim is to ease congestion and allow traffic to flow functionally and safely by adding turn lanes, but the larger objective is to create the right environment where shopping and residential development can flourish. The Cumberland Avenue plan is currently the city's largest capital project, and so far, the city's investment has paid off with $130 million in private-sector projects in the works along the corridor.
In South Knoxville, it will be exciting to see carefully planned projects there start to take shape. The new Suttree Landing Park and Waterfront Drive will be underway, as well as the redesign of the entrance to Fort Dickerson Park.
The biggest dirt moving of all will be the long-term redevelopment of the former Baptist Hospital site by private developers who plan to invest up to $165 million along the South Waterfront. Blanchard & Calhoun Commercial Corp. announced Dec. 23 that it had closed on the acquisition of the site, with demolition beginning soon. Blanchard & Calhoun is proposing to roll out in coming years a mix of luxury apartments, student apartments, a hotel and retail and office space. All of Knoxville will be eager to watch it unfold.
2. IS BEING MAYOR ABOUT WHAT YOU EXPECTED?
Yes. Actually, it's even better than I'd expected. I love the job, and I love the people I get to work with every day – city staff, police and firefighters, community leaders, homeowners, the business community. Every day has its tough challenges, but it's rewarding to sit down with people and come up with solutions to obstacles.
3. WHAT'S THE ONE THING THAT HAPPENED LAST YEAR THAT SURPRISED YOU THE MOST?
I was surprised to be asked last summer to serve on Tennessee Gov. Bill Haslam's Task Force on Aging. And then, a few months ago, I was selected as one of 26 elected leaders to serve on a task force that will advise President Barack Obama on climate preparedness and resilience-building strategies to help cities and states. I am excited to be in a position to help formulate common-sense policy solutions at the state and federal level.
4. HOW HAS BEING MAYOR AFFECTED YOUR HOME LIFE?
Serving as mayor takes a lot of time and energy, but I have a wonderful supportive family. I can focus on doing the best job I can as mayor because of the support and love of my husband, children and grandchildren.
In the end, it's really about making time for what's most important – enjoying spending as much time as I can with my two newest grandbabies, Vera and Lucas, or being there when my granddaughter Jada received a Coach's Award for her commitment to the West High Varsity Volleyball team, or being with my grandson Silas at Pleasant Ridge Elementary School's Grandparents Day. And I enjoyed being with my two oldest granddaughters, AJ and Maylah, and other family members over the holidays.
5. WHO IS THE MOST INTERESTING PERSON YOU GOT TO MEET IN 2013?
I've had the pleasure of talking with and getting to know a lot of really interesting people. It was exciting to meet both President Barack Obama in Chattanooga and First Lady Michelle Obama at the White House this year. But the most inspiring people I've met as Mayor are Medal of Honor recipients Sammy L. Davis and Walter (Joe) Marm, who have come to town to help us prepare for the Medal of Honor Convention next September. I know all of Knoxville will join me in welcoming the brave and patriotic Medal of Honor recipients and their families.
6. DO YOU FEEL YOU HAVE ENOUGH STAFF AND BUDGET?
As public servants, we have an obligation to make the best use possible of all of our resources. I am constantly impressed with and grateful for the amount and quality of work that our City staff perform – from the police officers and firefighters who work 24 hours a day to keep us all safe, to the Public Service crews who pick up leaves and patch potholes, to the folks in Parks and Recreation working hard to make park and youth sports experiences as great as possible.
7. WHAT DO YOU SEE AS THE MAJOR PROBLEMS WITH THE CITY IN 2014?
I see many opportunities in 2014. There are always short-range challenges, but looking at the big picture, much will be unfolding in 2014 in terms of major long-range initiatives. It's the start of fruition of a couple of years of careful preparation, planning and listening to people telling us what they expect and want.
I talked earlier about "moving dirt" and how excited we are to see big progress on the South Waterfront and the Cumberland Avenue Corridor. But the city also will be progressing on multiple road improvement projects across the city and will resume street paving operations when warm weather starts. Each year, the city paves 8 to 9 miles of roadways in each of the six City Council districts, for a total of 48 to 54 miles per year citywide.
The city will continue implementing energy-saving and sustainability initiatives, drawing on the recommendations from the IBM Smarter Cities Challenge team. Specifically, the city and its partners will be using weatherization and energy-reduction best practices to reduce emergency utility bill assistance for low-income residents living in older, currently inefficient buildings.
Also in 2014, the city's Office on Homelessness will gather public input and work on finalizing a comprehensive plan to address a range of homelessness issues. In creating a draft of the plan, released in early January, I convened a Mayor's Roundtable on Homelessness to bring together the agencies and ministries that provide services. We learned from the listening and public input process of the Compassion Knoxville project, which in 2011 gathered more than 500 comments through 43 public meetings. Roundtable members then developed updated strategies to address this complicated issue – strategies that make sense for Knoxville. There will be many more public discussions on this plan very soon, but the focus will be on preventing homelessness and helping those already homeless find housing, jobs and stability.
8. DO YOU FEEL THE MEDIA HAS BEEN FAIR?
Yes, overall, most reporters and columnists have been fair. We're committed to open, responsive government, and being scrutinized and asked to explain policies and decisions is part of the job. We value the role of the media. Communicating through the media helps us get the word out on what's happening and also helps us solicit ideas and input from Knoxvillians on what they want from their city government.