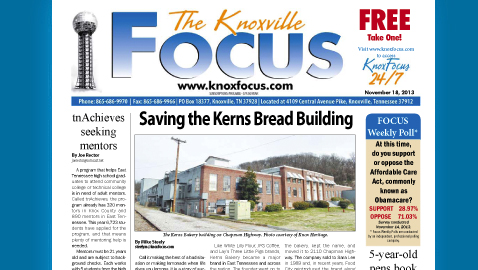 Click here to view the full paper.
Saving the Kerns Bread Building
By Mike Steely
steelym@knoxfocus.com
Call it making the best of a bad situation or making lemonade when life gives you lemons, it is a story of success that grew out of necessity.
When a Confederate soldier, wounded in battle, was waiting on a train in Knoxville to return to duty he is captured by Union forces. The captured man is release with an oath of loyalty but told to remain in Knoxville and not to leave.
The soldier, a German immigrant, needed to survive and found a unique way to do so.
Peter Kern and a fellow German immigrant went to work baking, opened a little shop and added an ice cream parlor.
Like White Lilly Flour, JFG Coffee, and Lay's Three Little Pigs brands, Kerns Bakery became a major brand in East Tennessee and across the region. The founder went on to become a Knoxville mayor, a founder of the Humane Society, a church supporter, and a promoter of a very successful Market Square. Out of necessity and his own needs he became an expert on ice making and was president of the Knoxville Ice Company in an era when ice was a necessity.
Kern is buried in the Old Gray Cemetery but some his descendants still live in the area. The resurrection of the Kern's bread brand has highlighted the early Knoxville businessman's contributions.
In 1931 the Brown family bought the bakery, kept the name, and moved it to 2110 Chapman Highway. The company sold to Sara Lee in 1989 and, in recent years, Food City reintroduced the brand along with several other popular regional brands.
The Kerns Bakery building is now empty and for sale and the City of Knoxville is looking to designate it a Historic H-1 Zone. Early interest in purchasing the property was to demolish the building and the City Council is discussing requiring any buyer to preserve the historic building. Vice Mayor Nick Pavlis suggested the preservation and historic designation.
Knox Heritage is also asking that any potential buyer preserve the building and the landmark neon sign.