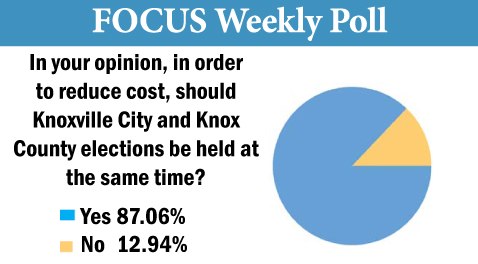 By Focus Staff
This week's Knoxville Focus poll posed the question, "In your opinion, in order to reduce costs, should Knoxville City and Knox County elections be held at the same time?"
More than 87% of likely voters say yes, city and county elections should be held in conjunction.  Only approximately 13% objected.
A staggering 97% of voters inside the Second District, which is entirely within the confines the City of Knoxville, believe the city elections should be held along with county elections.  More than 92% of residents in the Third District, which is also entirely within the Knoxville city limits, favor combining city and county elections.
Voters all across the City of Knoxville felt more strongly about the issue generally than did county voters.
Click here to view the full survey results.