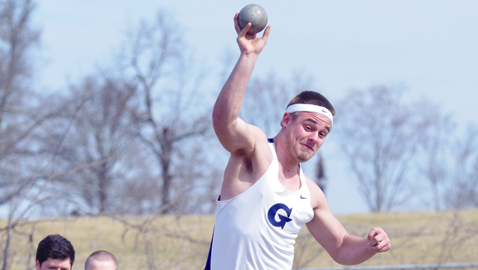 By Steve Williams
A suggestion by his dad led to Rhett Elwood throwing the discus when he was in the 8th grade three years ago. The idea eventually blossomed into a TSSAA state championship.
Rhett was skeptical of Robert Elwood's recommendation at first.
"I took it as a joke, and then I went out there and started doing really well," recalled
Rhett, now a junior at Grace Christian Academy. "I didn't expect it at all. I've loved it ever since."
Elwood won the Class A-AA state title last year with a throw of 156 feet, 11 inches, becoming GCA's first-ever state champion in any sport.
Dad's idea not only took roots in the discus, it is budding into other field events and more for his son.
Rhett started training in the shot put last summer and was excited after improving his PR (personal record) by two feet with a heave of 46-6 in a meet at Karns last week.
"I just have a passion for field events," said Rhett.
The 6-3, 225-pounder, an all-district performer as a defensive end and tight end on the Rams' football team, also plans to compete in the decathlon next year as a senior.
"I will have to learn how to pole vault, triple jump and hurdle," he said, sounding very much like he looked forward to the challenge.
Peaking even a little further into the future, Rhett said he would like to throw the hammer in college. That's one of the oldest Olympic events, and basically consists of a 3-foot chain attached to a 12-pound ball.
For now, however, Elwood is concentrating on the discus and shot put events and is looking forward to competing in the annual Knoxville Interscholastic League meet next week (April 27-28) at Hardin Valley Academy.
Elwood has the top mark (153-7) in Tennessee for Class A-AA discus throwers, as of April 16, according to Tennessee Runner's state rankings.
He uses a lot of plyometrics in his training, and explosion exercises for his chest and legs, which also help him in football.
On the same afternoon he set a new PR in the shot put, Elwood scratched in the discus.
"But," he said, "things are going well. I'm really torquing it out there. I look to get to 170 feet by the end of the season."
Rhett, however, later admitted he has been in a "slump" in the discus event the past couple of weeks. While he has thrown 170 feet in practice, he hasn't reached that distance in a meet. This time last year, he had thrown 166-5 – still his PR.
In the Sea Ray Relays at UT on April 9, the state high school record in the discus event – the oldest of all the state marks – was erased by Gallatin's Brett Neelly when he threw 189-1.
"We think Rhett has the potential of doing that as well," said Grace Christian head coach Mike Barlow. "He's got another year, so we're excited about that."
Barlow's confidence in Elwood is based on Rhett's "attitude" as well as his physical attributes, he said.
The KIL meet includes all high schools in Knox County, including Division I Class AAA, A-AA and Division II members. Elwood mentioned Halls' Cole Patterson, in particular, as one competitor he respects and looks forward to throwing against in the shot put.
Patterson has the top mark for KIL shot putters this season, having posted a 56-2¼ effort in the Sea Ray Relays.
"I love going to the KIL every year," said Elwood. "It's very interesting and fun to do. But the state meet is my main focus."