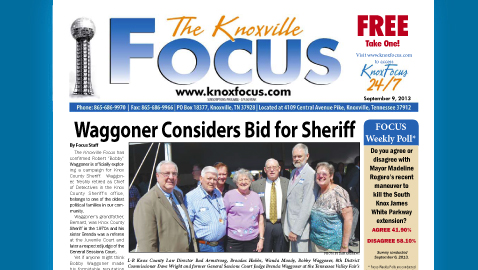 Click here to view this week's Focus.
Waggoner Considers Bid for Sheriff
By Focus Staff
The Knoxville Focus has confirmed Robert "Bobby" Waggoner is officially exploring a campaign for Knox County Sheriff.  Waggoner, freshly retired as Chief of Detectives in the Knox County Sheriff's office, belongs to one of the oldest political families in our community.
Waggoner's grandfather, Bernard, was Knox County Sheriff in the 1970s and his sister Brenda was a referee at the Juvenile Court and later a respected judge of the General Sessions Court.
Yet if anyone might think Bobby Waggoner made his formidable reputation because of family connections or politics, they would be dead wrong.  If elected, Bobby Waggoner might well be the best-educated and trained Sheriff in Knox County's history.
Waggoner has a Master's degree in Public Administration from Columbus State University.  Waggoner has a Bachelor of Science degree in Criminal Justice, specializing in social and behavioral sciences from the University of Alabama.  Waggoner is a graduate of the Georgia Law Enforcement Command College and the FBI Executive Development Course.
Waggoner worked in the Knox County Sheriff's office as the Assistant Chief Deputy of Administration before becoming Chief of Detectives.
"Justice must always be the top priority of any good Sheriff," Waggoner said.  "Justice can never be applied through favoritism, politics, or who you know.  It has to be applied equally."
Waggoner said he is giving serious thought to entering the Republican primary next year.
"I sure am thinking about it and will be talking to a lot of people within the next couple of months," Waggoner said.
"I don't think any good law enforcement agency, or any public official for that matter, can ever afford to be complacent," Waggoner said.  "Violence against law abiding citizens, the war on drugs, those things are, unfortunately, a constant in our society today and we need the most professional Sheriff's department we can afford."
The filing deadline for anyone seeking local office will be February of 2014 and the political pot is already beginning to heat up.  Local radio personality Bob Thomas has announced his intention to seek election to the Knox County Commission for an At-Large seat and is believed to be a very strong candidate by most seasoned political observers.