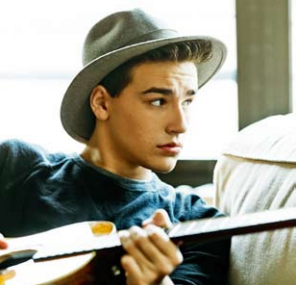 By Dan Andrews
andrewsd@knoxfocus.com
"Professional and genuine."
I continue to write those words repeatedly when describing Knoxville's own Jacob Whitesides. Three years ago, I drove out to Nashville to cover the young man at the very beginning of his career. After seeing his performance with Jimmy James Hunter and Forest Miller, I was immediately impressed. At the time, I referred to the crowd as "electrifying." Three years later, Jacob continues to electrify crowds.
On Sunday, February 15, 2015, Jacob returns home to Knoxville to perform at the Bijou Theater. Jacob's career has grown since I first saw him perform. I am proud to say The Knoxville Focus published the first article ever written about Jacob as he began his music career. He now has 1.4 million loyal Twitter followers. More importantly he has an army of supporters that purchase his music on iTunes, making him a chart-topping success.
While many in the media try to compare Jacob Whitesides' success to others like Justin Bieber or Austin Mahone, their comparisons fall flat. Jacob Whitesides is the next Jacob Whitesides. Period.
Jacob is that phenomenal hard working talent that we see once in a generation. He is a hardworking southern boy at heart who still holds true to his traditional roots. You will not find Jacob making headlines for getting into fights with bouncers at clubs. And the paparazzi probably won't report that the first place Jacob stops at when he comes home is his favorite restaurant, Cracker Barrel. Jacob has two defining loves at Cracker Barrel. He loves their Southern fried chicken and more importantly he loves seeing his mom who works at the restaurant. However, if he is not at Cracker Barrel, you can probably find him at Calhoun's on the River, enjoying his favorite steak.
When Jacob takes the stage of the Bijou, he will be performing new songs from his EP. Jacob's new album will feature all real instruments. In an era of cost-saving digital music, this is just one of many examples of his dedication and quality Jacob brings to his music. Also, the music and songs he performs will be his words, his lyrics, and the entire process has been with his full input.
During my interview with Jacob, he spoke about the intimate setting The Bijou provides: "The Bijou Theater provides world class acoustics. From an artist standpoint, when you take the stage, you feel as if you are one, with the audience. It is the perfect place to launch my EP. I am excited that the start of my tour is at the Bijou."
For Jacob, intimacy with his fans is very important. In between writing, touring, recording and promoting his new album and tour, Jacob still finds time to connect with his fans via social media. To him communicating personally with 1.4 million fans comes naturally regardless of the social media app.
I always say to new artists at the beginning of their career "don't forget The Knoxville Focus when you become a big rock star and have millions of fans." I am glad to say Jacob, has not forgotten about The Focus. As I said before, "Jacob Whitesides is the next Jacob Whitesides."