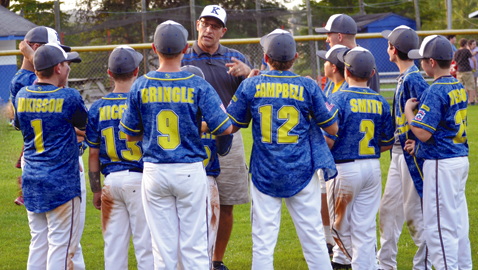 By Steve Williams
Ron Eller remembers when Morristown made it all the way to the Little League Baseball World Series in 1985.
"That team played the year after me," recalled Eller, who finished play in the Morristown Little League program in 1984 and now, 31 years later, is head coach of Karns' 12-year-old All-Star team.
"All I can remember is the excitement around Morristown. It was very celebrated at that time."
Eller also recalled the star player of that Morristown team – Richie Conway, who went 6 for 8 at the plate (.750) in the World Series. Conway's name is still in the Little League record book for one of the top batting performances in its 75-year history.
The news of an East Tennessee team making it to Williamsport, Pa., and finishing in third place was followed by sports fans throughout the Knoxville area that summer.
The popularity of the Little League World Series started increasing with national television coverage in 1962. Championship games were part of ABC's Wide World of Sports from 1965 to 1985. ESPN started televising even more games from Williamsport in 1982.
Eller went on to play baseball at Morristown West High School (Class of 1990) and was a first baseman in 1991 and '92 at Walters State Community College. He is in his seventh season of coaching youth baseball.
"One reason I love Little League Baseball is you only advance if you win," said Eller, whose Karns team recently captured the District 6 championship to qualify for the State tournament.
Karns, which has the only remaining Little League program in Knox County, was scheduled to play Bristol, the District 5 champion, in the first round of the State tournament this past Saturday in Jackson.
Other first round matchups included Tullahoma vs. South Nashville, Gallatin vs. Rogersville and Clarksville National vs. Madison Central American, the District 1 champion and host team.
The Tennessee state champion will advance to the Southeast Region tournament.
Tennessee has enjoyed tremendous success in Little League Baseball in recent years. Goodlettsville won the USA title and lost to Japan in the 2012 World Series. South Nashville advanced to Williamsport each of the past two seasons.
Karns was eliminated by South Nashville 4-1 in last year's finals.
The only other Tennessee teams that have made it to the Little League World Series were Nashville in 1970, Jackson in 1974 and Morristown with a second trip in 1987.
With the world-wide tournament televised each summer, players on the Karns team are very familiar with the Little League World Series, said Eller.
"This is the ultimate for a 12-year-old baseball player. I believe they look at it as something special."
Karns got in practice sessions on its home field last Wednesday and Thursday.
Coach Eller said Tyler Nicely and Payton Adkisson were selected to represent Karns in Friday night's pre-tourney Home Run Derby.
BALL HONORED: The Karns team presented Chris Ball, longtime Karns Little League officer, with an autographed baseball at the conclusion of the district tournament.
"Chris basically lives here at the ball park," said Eller, "and does a lot for the program behind the scenes. We wanted him to know how much we appreciate it."