By Tasha Mahurin
Tasha@knoxfocus.com
Caty Davis has been participating in teen pageants for three years. Last year she was crowned Miss Knoxville's Outstanding Teen, as well as, Knoxville's Distinguished Young Woman, and just last fall she earned the title Miss Northwest Tennessee.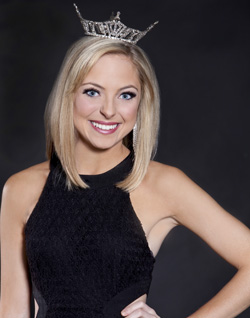 "As Miss Northwest Tennessee, I won scholarship money that will help me further my education at the University of Tennessee in the fall," Davis said.
Now an 18-year-old senior at Karns High School, Davis will be competing at the Miss Tennessee Pageant in June. She will be one of three 18 year olds competing out of 36 contestants and the only contestant from the Knoxville area.
The Miss Tennessee Scholarship Foundation is based on a scholastic tradition and has been the cornerstone of the Miss America program since 1945. If she wins, Davis will go on to represent the state as Miss Tennessee in the Miss America Program held in Atlantic City in September.
Davis' accomplishments are no small feat. Each year 80,000 young ladies participate in local preliminary pageants leading to the Miss America pageant.
"The Miss American Scholarship Program is the largest scholarship program for young women in the United States awarding over $45 million a year at the local, state, and national level," Davis added.
Educational achievements and public service continue to be the primary objectives for the Miss America and the Miss Tennessee organizations. Davis is committed to both.
On May 4, she will be hosting a benefit to support Children's Miracle Network entitled: "Caty's Dinner and a Show." The event will be held at 6 p.m. at Beaver Ridge United Methodist Church located at 7753 Oak Ridge Hwy. Ticket cost is $12.