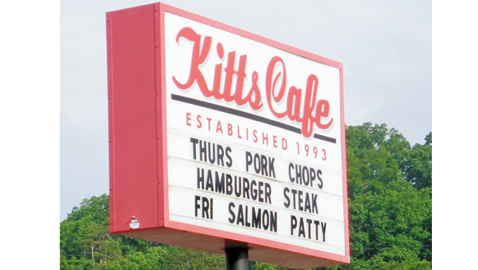 By Mike Steely
steelym@knoxfocus.com
It's one of those places that is a favorite of local people. About 70% of those who cometo the restaurant are repeat customers who come for the food and the friendship they find there among the Kitts family.
Joyce Kitts sort of fell into the business. She said she was visiting a friend who was running a craft booth at the old Farmers Market, where the Target on Washington Pike is now located, and  discovered no one was serving food. She found a "little dark space" that Sunday at the Market and asked her daughter and daughter-in-law if they might have an interest in opening a little restaurant there.
"By Tuesday I had signed the papers. The first week we opened I was asked if we could cater a special event for the market for about 150 people and the whole family was in there cooking," she said. She said that Tootsie Neely at Neelys Produce helped her a lot with advice about running a business. The Kitts cooked at the Farmers Market from 1993 until it closed in 2003.
When the old Farmers Market closed, Joyce built the current restaurant at 4620 Greenway Drive, just a block or so away from it's previous location.
"My family all worked together," she said. That family help also has included her son, three grandsons and her son-in-law.
The family is still involved there and her grandson, Randy, is the manager. Other family members occasionally come in to help cook, but Joyce obviously has a hand in everything, including the menu.
If you like Southern cooking, then Kitts is the place to find things like fried bologna, skillet cornbread, pinto beans, and even "Hillbilly" chili pie. One of the most popular items, one which she says they normally fix for football season but will starting fixing next week, is their own version of hot tamales.
"We have a daily special on our menu board plus our plate lunch specials," she said. The restaurant closes at 3 p.m. each day.
She said that regular customers often call ahead and ask for something to be special for a particular day and Joyce and the staff try to do just that.
"They'll call ahead and ask for meatloaf, pork chops, chicken and dumplins'  and so on," she said.
The restaurant opens at 9 a.m. each day Monday through Friday.
When this writer visited on a bright Thursday morning, Kitts was hopping. Cars filled the parking lot as the regular customers came in to eat and to visit with Joyce, who has recently completed chemotherapy and is recovering from her fight with cancer. Several came over and spoke with her, asking how she was and how her recent family trip to Myrtle Beach was.
"I'm fine, I'm doing very well," she said, adding, "I got a lot of support from my customers and I never missed very much work because of the treatments."
Her husband, Gene Kitts, son Robert and grandson Danny operates Kitts Service. This business repairs and installs restaurant equipment, especially commercial coffee machines, at the company location at 817 North 4th Avenue.
One customer, when asked about Kitts Café, said she dines there for the food, the family atmosphere, and that the restaurant is always so clean.
"We are a family who cares and people are very comfortable here," Joyce said. Joyce said she has a couple of customers who can't leave their homes and will call in and order, than she takes their food to their homes.
You can find Kitts Café on Facebook or call 522-7311. You can go by for breakfast or lunch and sit down among friendly people for some delicious home cooking.