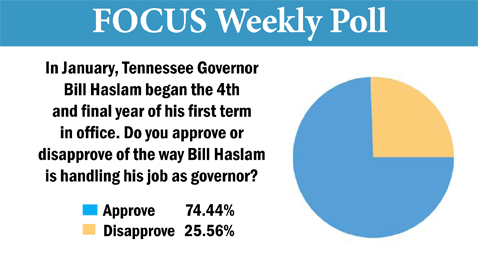 By Focus Staff
This week's Knoxville Focus poll, asked the question: "In January, Tennessee Governor Bill Haslam began the fourth and final year of his first term in office.  Do you approve or disapprove of the way Bill Haslam is handling his job as governor?"
Almost 75% of respondents say they approve the way Haslam is doing his job.
The district in Knox County with the greatest disapproval of the way Bill Haslam has performed in office is the First.  37.50% of likely voters inside the First District say they disapprove of Governor Haslam's performance.  The First District is entirely within the confines of the City of Knoxville.  The First District is also quite likely the most partisanly Democratic in Knox County.
The highest approval for Haslam's performance in office comes from the Ninth District, which is South Knoxville.  79.19% of likely voters say they approve of the job Haslam is doing.  Voters in the Third District, which comprises much of West and Northwest Knoxville inside the City of Knoxville, were just a fraction behind in their approval of the governor's term of office.
Slightly more men than women approve of Haslam's performance and seniors overwhelmingly approved the governor's time in office.
Click here to view full poll results.