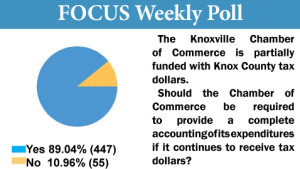 By Focus Staff
This week's Knoxville Focus poll queried likely voters, asking the question, "The Knoxville Chamber of Commerce is partially funded with tax dollars.  Should the Chamber of Commerce be required to provide a complete accounting of its expenditures if it continues to receive tax dollars?"
The response was a resounding "yes!"
Voters in every district believe the Chamber should report all of its expenditures with voters in the Third District being almost unanimous in their desire to see the Chamber be accountable.  Fully 98% of respondents in the Third District said they think the Chamber should report all of its expenditures publicly.  This affirms the position taken by Third District County Commissioner Tony Norman who has pushed the Chamber to provide more information and documentation about their revenue and expenditures.
The district with the biggest number of respondents who do not believe the Chamber should be required to make its expenditures public was the Fourth District with just over 17% of voters saying they don't believe it is necessary for the Chamber to detail its expenses.  Still, more than 82% of residents in the Fourth District think the Chamber should be more transparent if it continues to receive tax dollars.
Click here to view the survey's breakdown.