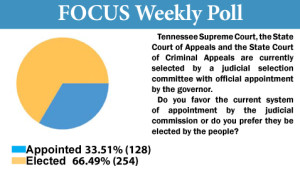 By Focus Staff
This week's Knoxville Focus poll asked the question whether voters prefer direct election of judges or the current "retain or replace" method of ratifying judges.
Over 66% of likely voters favored direct election of judges, although several districts gave strong support to the current method of choosing judges in Tennessee.  Bare majorities in the Fourth and Fifth Districts favored direct election, with strikingly similar results in both districts.  More than 47% of voters like the current method of determining judges in Tennessee. Tow districts entirely within the confines of the City of Knoxville favor direct election of judges, the First and Second.  The greatest support for direct election of judges came from the Seventh District, which is comprised of Fountain City and Halls in north Knoxville and Knox County.  80% of voters in East Knox County also favor direct election of judges.
Voters ages 30-49 were least likely to want to change the current method of selecting judges, while those most strongly supporting direct election of judges were voters over age 65.
Click here to view the survey results.