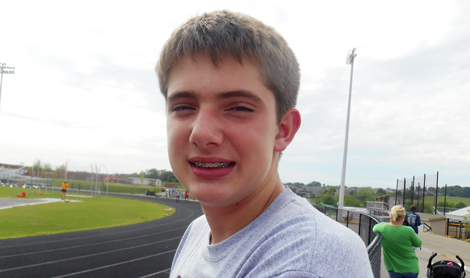 By Steve Williams
Like most youngsters, Josh Sobota has dreams and goals. He hopes his come true in the Olympics someday.
That's a long way off, but the 14-year-old, who will be a freshman at Bearden High School this fall, is headed in that direction as a top Junior Olympian.
He currently owns the top mark in the nation in the discus event for his age group this year, with a throw of 164 feet while competing for West Valley Middle School this past season.
"I want to win every meet in school a   ts well as in summer (AAU and USATF competitive meets) that I enter," stated Sobota last week via e-mail. "Next year, I hope to qualify for the high school state meet.
"Ultimately, my goals are to compete in the World Youth Championships, earn a scholarship to throw in college, as well as compete nationally (NCAA Championships and US Nationals) and internationally (Worlds and Olympics)."
When it comes to track and field, dreams and goals don't get much bigger.
Sobota competed in the AAU Region 6 National Qualifier at MTSU in Murfreesboro July 5-6 and won both the shot put (50 feet, 4 inches) and discus (159-4½) events to qualify for the AAU Junior Olympics National Championships at Drake University in Des Moines, Iowa, which will be held July 25 through August 2.
"My goal is to train hard the rest of the summer in order to defend my national title in the discus and win the shot put," said the 6-3, 185-pounder. He placed third in the shot put last year.
Sobota, who says he enjoys both events equally, began his track career at age 7 with Knoxville Youth Athletics. Over the past seven years he's been throwing the shot and disc, he has won nine national medals at the AAU Junior Olympics and been named an All-American twice.
Sobota's coach is former University of Tennessee All-American Garland Porter, who recently moved to Germany to train for the 2016 Olympics in the hammer throw.
Rodney Ruth was Josh's coach at West Valley Middle School.
"It was fun coaching Josh this year," said Ruth. "He finished first place in the shot put and discus at every meet. Josh is an excellent thrower and the sky's the limit for him. If he continues on his current track and field path, then he will be a great college athlete."
The shot and discus will be heavier on the high school level.
"The shots in middle school are 4 kilograms or 8.8 pounds, whereas the shots in high school are 12 pounds," he pointed out. "The discus in middle school is 1 kilogram or 2.2 pounds, whereas the discus in high school is 1.6 kilograms or 3.52 pounds."
Sobota also has baseball on his sports plate.
"I just recently made the Bearden High baseball team," he said.
Josh is a corner outfielder and first baseman, and this year he plans to focus on improving his pitching.
Yeah, he likes throwing things.