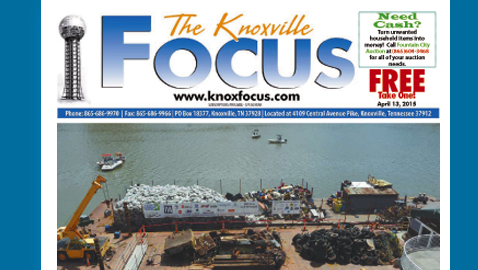 Tennessee River Tour Kicks Off In Knoxville
By Dan Andrews
andrewsd@knoxfocus.com
As fire, police, and emergency service boats flanked a large environmental barge, the Mayor of Knoxville beamed with pride as she welcomed the crew from Living Lands and Waters Thursday afternoon. Chad Pregracke, Living Lands and Waters founder and president and 2013 "CNN Hero of the Year," has docked his Living Lands and Waters fleet at Volunteer Landing through April 14. Mr. Pregracke and his crew are assisting with the Ijams River Rescue as well as a host of other environmental projects during his time in Knoxville as part of his Tennessee River Tour.
For Mayor Rogero, maintaining the Tennessee River is not a photo opportunity, it is a way of life. She observes firsthand the impact that trash has on the shoreline as she is an avid canoe paddler. Rogero even held a "Paddling for Madeline" event to highlight her support for the riverways and a clean shoreline.
"It's important to have a clean community and support to preserve our natural resources, blueways and  greenways," she said. "I love getting out on the Tennessee River. I put in (my canoe) at different places. Sometimes I put up at Holston River. I have paddled from Ned McWherter's up to Ijams. I have paddled down to Sequoya.  I continue paddle quite a bit."
This first-hand knowledge that led the Mayor to create funding for a year-round river keeper. "We have a contract with Ijams that we bid out and they hire someone who rides up and down the river mainly downtown to clean it up. We decided that with all the people we attract to the waterfront, whether it's visitors or residents, we need to keep that area attractive. So we as a city have taken it upon ourselves to make it happen."
Knoxville is home to the headwaters of the Tennessee River, making it the natural kickoff city for the two-month tour.
"It is fitting that this first-ever Tennessee River Tour will start in Knoxville, where the Tennessee River begins," said City of Knoxville Mayor Madeline Rogero. "Thanks to Chad and his team for coming here! Living Lands and Waters has been a great champion for water quality throughout our country, and this collaboration will help raise awareness of the need to protect our rivers and streams."
Keep Tennessee Beautiful Executive Director Missy Marshall said, "We jumped at the opportunity to partner with Living Lands and Water, TVA and Ijams to fight the ongoing battle of waterway litter. The Tennessee River's strength begins in Knoxville, so it's only natural that this movement begins in the Volunteer State. Last year alone, our state collected over 4 million pounds of litter, which included the cleaning of over 249 miles of Tennessee shores. Our efforts with this project will expand upon past efforts, and also improve the overall water quality of all impacted by the long reach of the Tennessee River in Alabama, Kentucky, and Tennessee."
The project involves more than just clean water. The City of Knoxville's Urban Forester has worked with Living Lands and Waters to select five sites across Knoxville to plant trees, helping stabilize creek and river banks. The five locations include Ijams Nature Center, Third Creek Greenway, Williams Creek, Adair Park and James White Greenway. Each location will receive 500 trees for planting.
Other activities involved in the week-long special event include fundraisers for local environmental groups, a floating classroom, open house tours, and lectures. For a complete list of activities, please visit http://livinglandsandwaters.org/get-involved/tennessee-river-tour/knoxville-tn/
In order to clean a community, it takes a community. A main hope the Mayor has is that the community will have a new awareness of the ongoing litter problem our rivers have. It is the hope of the Mayor that more people will become involved in helping well-respected organizations like Ijams, which work to better our environment year round to not only keep the rivers clean but also to keep the parks and greenways beautiful.