Replica of Mayberry Sheriff Car at Fountain City Auction
By Mike Steely
steelym@knoxfocus.com
Who doesn't like Andy Taylor and Barney Fife of Mayberry fame? Both Andy Griffith and Don Knotts are gone now but their fame lives in reruns and in the memories of many, many people.
This Friday, September 4, at Fountain City Auction there's a very special item: a classic 1967 Ford Custom 500 detailed out as Andy's Sheriff Car. The Mayberry replica will be sold during the auction which starts at 6 p.m.
The car runs and drives and would be the proud possession of any Mayberry fan. Can you imagine the attention the Mayberry-designed car would get driving down the road in Knox or any other county? Even the siren and lights work!
Additional Mayberry items will be auctioned Friday night, including a sheriff's uniform, a plaque with all the iconic Mayberry stars from the television series, two deputy hats, and even handcuffs.
You can view the car and other items for this week's auction online at Fountain City Auction's AuctionZip site, accessible from www.fountaincityauction.com. Don't let someone else get your car! Be like Barney Fife and "Nip it! Nip it in the bud!"
Fountain City Auction has a comfortable 10,000 sq. ft. climate-controlled facility with seating for 250 guests. A large projection screen shows the item being sold, so there's not a bad seat in the house. The auction is conveniently located just off Interstate I-75 at the Merchants Drive exit at 4109 Central Avenue Pike in Knoxville, Tennessee.
Each Friday there's a huge variety of items on which to bid. It's a great place for a family to go even if you don't buy anything.
You can get more information by calling (865)604-3468 or (865) 474-9931.
Paul Michael "Mike" Beeler
November 23, 1953 – August 26, 2015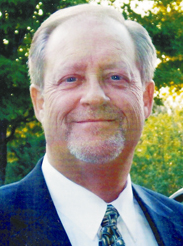 Paul Michael (Mike) Beeler, age 61 of Corryton, passed away unexpectedly the morning of August 26, 2015. Though the Beeler family and friends mourn the loss of their beloved husband, father, papaw, brother, and friend, they are secure and comforted in the knowledge that as a man of faith and acceptance, he is now in the presence of our Lord and Savior.
A hardworking man, he took great pride in providing for his family. Nothing brought him greater joy than being surrounded by family and friends to enjoy a good meal, singing or listening to the great old gospel hymns, watching his precious grandbabies playing at his feet, attending every sporting event in which his children participated, or a quiet weekend getaway with Becky in the RV.
But most of all, Mike loved his family and the comfort of home. He and Becky hosted countless family get-togethers filled with laughter, music, good food, and always love.
He is preceded in death by his father, the Reverend John (Jay) Beeler who passed away when Mike was but an infant; his mother Bobbie Dunsmore and step-father the Reverend Lonnie Dunsmore; father-in-law William Moore; mother-in-law Mary Nell Moore; brothers Greg Dunsmore and Glen Dunsmore; and sister Helen Cupp.
Mike leaves behind many loved ones to cherish their memories of him until they meet again. Loving and faithful wife of 40 years Becky Beeler; daughter (his "baby girl") Ashley and husband Christopher Foster and grandsons Jack and Ryder; beloved son Christopher (Chris) and wife Carrie and granddaughter Chloe; sisters Teresa (Bob) Garland, Karen (Alan) Beal, Brenda (Jeff) Taylor, Susie Cox, and Velma (Claude) Killion; brothers Loy Dunsmore, Hollis (Mary) Dunsmore, Bob (Blanche) Dunsmore, James (Sandy) Dunsmore, and Ray Dunsmore; sisters-in-law Annette Moore, Judy (Bob) Buchanan, Sandra (Ron) Tilley, and Brenda Dunsmore; brothers-in-law Doug (Dana) Moore and Blaine Cupp along with many special nieces, nephews, aunts, uncles, and cousins.
The family wishes to express their heartfelt gratitude to Steve and Kim Hunley, Kay Cummings, their Fairview Baptist Church family, and Dr. Richard Grapski and staff for their kind and compassionate support and care these past months and to the many friends that have lifted them in prayer during their darkest days.