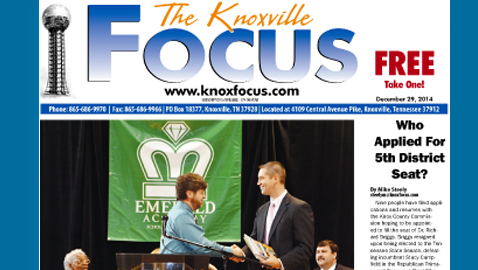 Historic Moses School Building announced as site for Emerald Academy
By Focus Staff
Knox County's first public charter school has found a home. Emerald Charter Schools recently purchased the Historic Moses School Building building in Mechanicsville from Boys & Girls Clubs of the Tennessee Valley for its Emerald Academy.
Emerald Academy is a free, independently operated, K-8 college preparatory school, approved by the Knox County Board of education in June 2014. Emerald Academy is scheduled to open July 27, 2015.
Emerald Academy's mission is to grow scholars into leaders by creating the best learning culture for city students to develop the skills, habits, and values needed in high school, college and life.
The Academy's goals are:
· Scholars will read at or above grade level
· Every scholar will be ready for high school and on their way to a 4-year college
· Emerald Academy will rank in the top 5 percent of schools in Tennessee
The Historic Moses School Building has served children for the Boys & Girls Clubs of the Tennessee Valley since 1995. The Boys & Girls Clubs is constructing a new facility on Caswell Avenue.
Until construction is complete on the Caswell Avenue location, Boys & Girls Clubs' administrative offices will be located in the Shafer Building at 1100 Marion Street in Knoxville.
Renovations to the Historic Moses Building will begin in January 2015. The 65, 000 square foot building facility is capable of serving 585 students at full capacity for grades K-8," said Emerald Charter Schools President Steve Diggs.
The ground level will serve as the main entrance and transportation drop-off, and include a full-service cafeteria, common area, and media center.
"The Emerald Academy has one advantage over other charter schools that are just beginning," said Diggs. "We have already in place a gymnasium and stage, and the original auditorium," said Emerald Charter Schools President Steve Diggs.
"As noted in our charter application to Knox County Schools, the Historic Moses School Building was our preferred location for Emerald Academy. It is a beautiful 65,000 square foot facility that will allow us to serve 585 scholars when at full capacity for K-8 grades, "said Diggs.
Parents and guardians with children who will be in kindergarten or first grade in the 2015-16 school year can learn more about Emerald Academy and submit intent to enroll form online at www.emeraldacademy.org.