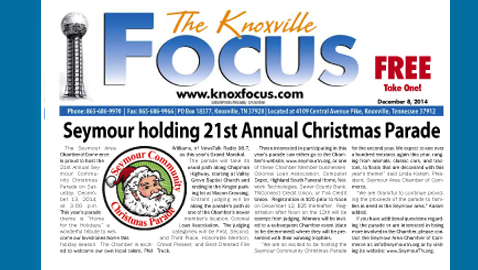 Seymour holding 21st Annual Christmas Parade
The Seymour Area Chamber of Commerce is proud to host the 21st Annual Seymour Community Christmas Parade on Saturday, December 13, 2014, at 3:00 p.m. This year's parade theme is "Home for the Holidays," a wonderful tribute to welcome our loved ones home this holiday season.  The Chamber is excited to welcome our own local talent, Phil Williams, of NewsTalk Radio 98.7, as this year's Grand Marshal.
The parade will take its usual path along Chapman Highway, starting at Valley Grove Baptist Church and ending in the Kroger parking lot at Macon Crossing. Entrant judging will be along the parade's path at one of the Chamber's newer member's location, Colonial Loan Association.  The judging categories will be First, Second, and Third Place, Honorable Mention, Crowd Pleaser, and Best Dressed Fire Truck.
Those interested in participating in this year's parade can either go to the Chamber's website, www.seymourtn.org, or one of these Chamber Member businesses: Colonial Loan Association, Computer Depot, Highland South Funeral Home, Network Technologies, Sevier County Bank, TNConnect Credit Union, or TVA Credit Union.  Registration is $20 prior to Noon on December 12, $25 thereafter.  Registration after Noon on the 12th will be exempt from judging. Winners will be invited to a subsequent Chamber event (date to be determined) where they will be presented with their winning trophies.
"We are so excited to be hosting the Seymour Community Christmas Parade for the second year. We expect to see over a hundred entrants again this year, ranging from animals, classic cars, and tractors, to floats that are decorated with this year's theme!" said Linda Karam, President, Seymour Area Chamber of Commerce.
"We are thankful to continue providing the proceeds of the parade to families in need in the Seymour area," Karam added.
If you have additional questions regarding the parade or are interested in being more involved in the Chamber, please contact the Seymour Area Chamber of Commerce at: info@seymourtn.org or by visiting its website: www.SeymourTN.org.