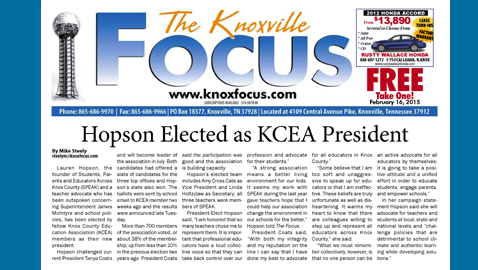 Hopson Elected as KCEA President
By Mike Steely
steelym@knoxfocus.com
Lauren Hopson, the founder of Students, Parents and Educators Across Knox County (SPEAK) and a teacher advocate who has been outspoken concerning Superintendent James McIntyre and school policies, has been elected by fellow Knox County Education Association (KCEA) members as their new president.
Hopson challenged current President Tanya Coats and will become leader of the association in July. Both candidates had offered a slate of candidates for the three top offices and Hopson's slate also won. The ballots were sent by school email to KCEA member two weeks ago and the results were announced late Tuesday.
More than 700 members of the association voted, or about 38% of the membership, up from less than 10% in the previous election two years ago. President Coats said the participation was good and the association is building capacity.
Hopson's elected team includes Amy Cross Cate as Vice President and Linda Holtzclaw as Secretary; all three teachers were members of SPEAK.
President-Elect Hopson said, "I am honored that so many teachers chose me to represent them. It is important that professional educators have a loud collective voice so that they can take back control over our profession and advocate for their students."
"A strong association means a better living environment for our kids. It seems my work with SPEAK during the last year gave teachers hope that I could help our association change the environment in our schools for the better," Hopson told The Focus.
President Coats said, "With both my integrity and my reputation on the line I can say that I have done my best to advocate for all educators in Knox County."
"Some believe that I am too soft and unaggressive to speak up for educators or that I am ineffective. These beliefs are truly unfortunate as well as disheartening. It warms my heart to know that there are colleagues willing to step up and represent all educators across Knox County," she said.
"What we must remember collectively, however, is that no one person can be an active advocate for all educators by themselves; it is going to take a positive attitude and a unified effort in order to educate students, engage parents, and empower schools."
In her campaign statement Hopson said she will advocate for teachers and students at local, state and national levels and "challenge policies that are detrimental to school climate and authentic learning while developing solutions."