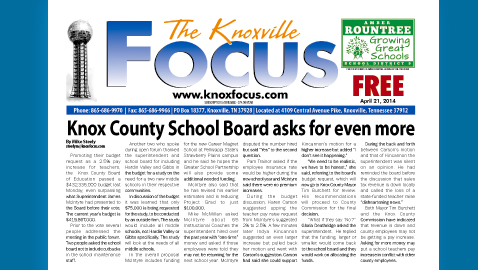 Click here to view this week's Focus online.
Knox County School Board asks for even more
By Mike Steely
steelym@knoxfocus.com
Promoting their budget request as a 2.5% pay increase for teachers, the  Knox County Board of Education passed a $432,335,000 budget last Monday, even surpassing what Superintendent James McIntyre had presented to the Board before their vote. The current year's budget is $419,867,000.
Prior to the vote several people addressed the meeting in the public forum. Two people asked the school board not to include cutbacks in the school maintenance staff.
Another two who spoke during open forum thanked the superintendent and school board for including Hardin Valley and Gibbs in the budget for a study on the need for a two new middle schools in their respective communities.
In discussion of the budget it was learned that only $75,000 is being requested for the study, to be conducted by an outside firm, The study would include all middle schools, not Hardin Valley or Gibbs specifically. The study will look at the needs of all middle schools.
In the overall proposal McIntyre includes funding for the new Career Magnet School at Pellissippi State's Strawberry Plains campus and he said he hopes the Greater School Partnership will also provide some additional needed funding.
McIntyre also said that he has revised his earlier estimates and is reducing Project Grad to just $100,000.
Mike McMillan asked McIntyre about 65 Instructional Coaches the superintendent hired over the past year with "one-time" money and asked if those employees were told they may not be returning for the next school year. McIntyre disputed the number hired but said "Yes" to the second question.
Pam Trainor asked if the employee insurance rate would be higher during the new school year and McIntyre said there were no premium increases.
During the budget discussion, Karen Carson suggested upping the teacher pay raise request from McIntyre's suggested 2% to 2.5%. A few minutes later Indya Kincannon suggested an even larger increase but pulled back her motion and went with Carson's suggestion. Carson had said she could support Kincannon's motion for a higher increase but added "I don't see it happening."
"We need to be realistic, we have to be honest," she said, referring to the board's budget request, which will now go to Knox County Mayor Tim Burchett for review. His recommendations will proceed to County Commission for the final decision.
"What if they say 'No'?" Gloria Deathridge asked the superintendent.  He replied that the funding, larger or smaller, would come back to the school board and they would work on allocating the funds.
During the back and forth between Carson's motion and that of Kincannon the superintendent was silent on an opinion. He had reminded the board before the discussion that sales tax revenue is down locally and called the loss of a state-funded teacher raise "disheartening news."
Both Mayor Tim Burchett and the Knox County Commission have indicated that revenue is down and county employees may not be getting a pay increase. Asking for more money may put a school teachers pay increase in conflict with other county employees.