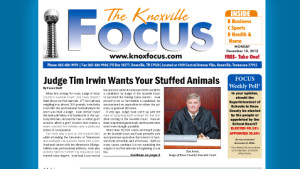 Click here to view this week's Focus online.
Judge Tim Irwin Wants Your Stuffed Animals
By Focus Staff
When first seeing Tim Irwin, Judge of Knox County's Juvenile Court, one likely doesn't think about stuffed animals.  6'7 feet tall and weighing in at almost 300 pounds, Irwin looks more like the professional football player he once was than a judge.  Irwin doesn't have the hail-well-fellow-met bonhomie of the typical politician; instead he has a rather gruff exterior, albeit a gruff exterior that masks a warm concern for children and a profound sense of compassion.
Tim Irwin was a star on the football field while attending the University of Tennessee and parlayed his success there into a professional career with the Minnesota Vikings.  Unlike many professional athletes, Irwin also worked hard to further his education and earned a law degree.  Irwin had a successful law practice when he announced he would be a candidate for Judge of the Juvenile Court to succeed the retiring Carey Garrett.  Irwin proved to be so formidable a candidate, he encountered no opposition in either the primary or general elections.
A year ago, Judge Irwin came up with the idea of acquiring stuff animals for the children coming to the Juvenile Court.  Knoxvillians responded generously and beyond what even Irwin thought possible.
More than 30,000 cases are heard yearly at the Juvenile Court and Irwin presides over an impressive operation that seems to function both smoothly and effectively.  With so many cases, perhaps it is not surprising the supply of stuffed animals is beginning to run low.
Judge Irwin, just after a stint playing Santa Claus, has again called for Knoxvillians and Knox Countians to open their hearts to those children who are all too often neglected and abused.  Irwin explained that many of the children appearing at the Juvenile Court are not there because of having committed a crime or an offense, but due to issues of abuse and neglect from their own parents or guardians.
The expressions on the faces of frightened and abused children being handed a stuffed animal are indelibly imprinted upon the minds of any person who has witnessed it at the Juvenile Court.
"You just can't get it out of your head," one long-time employee said.  "Once you see that angelic smile break out across the face of a child that had been scared out of his wits, well, it's just amazing."
Judge Irwin, a father of three, seems to possess some innate ability to determine the inner being of a young person.  He has an uncommon knack for putting up with no nonsense, yet remains willing to give a child another chance.
Irwin, a big and bluff man, has proven to be a remarkably good judge of a court that has more than its share of heartbreaking stories.  Judge Irwin has also initiated a very simple program that really does make a difference, distributing not only stuffed animals, but a little bit of love at the same time.
For information on how to donate, contact the Knox County Juvenile Court at (865) 215-6400.