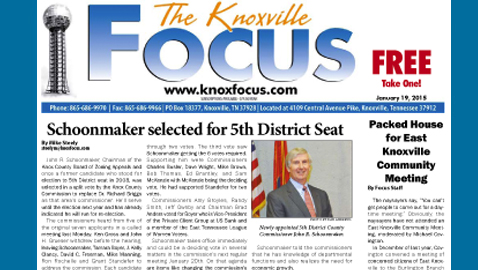 Schoonmaker selected for 5th District Seat
By Mike Steely
steelym@knoxfocus.com
John R. Schoonmaker, Chairman of the Knox County Board of Zoning Appeals and once a former candidate who stood for election to 5th District seat in 2008, was selected in a split vote by the Knox County Commission to replace Dr. Richard Briggs as that area's commissioner. He'll serve until the election next year and has already indicated he will run for re-election.
The commissioners heard from five of the original seven applicants in a called meeting last Monday. Ken Gross and John H. Grueser withdrew before the hearing, leaving Schoonmaker, Tamara Boyer, J. Kelly Clancy, David C. Freeman, Mike Manning, Ron Rochelle and Grant Standefer to address the commission. Each candidate was allotted about five minutes.
The commission took three votes, with Boyer, Standefer, and Schoonmaker lasting through two votes. The third vote saw Schoonmaker getting the 6 votes required. Supporting him were Commissioners Charles Busler, Dave Wright, Mike Brown, Bob Thomas, Ed Brantley, and Sam McKenzie with McKenzie being the deciding vote. He had supported Standefer for two votes.
Commissioners Amy Broyles, Randy Smith, Jeff Ownby and Chairman Brad Anders voted for Boyer who is Vice-President of the Private Client Group at US Bank and a member of the East Tennessee League of Women Voters.
Schoonmaker takes office immediately and could be a deciding vote in several matters in the commission's next regular meeting January 20th. On that agenda are items like changing the commission's meeting hours to 5 p.m., hiring a Nashville lobbyist, and a discussion about the school system's use of School Activity Funds.
Schoonmaker told the commissioners that he has knowledge of departmental functions and also realizes the need for economic growth.
He promised to "hit the ground running."