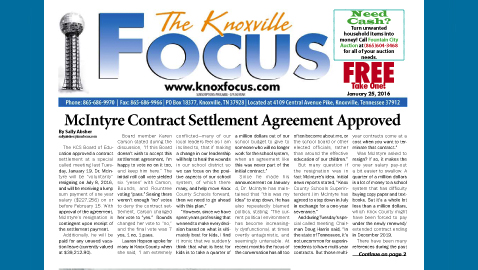 KAT seeking more input with public meetings
By Dan Andrews
andrewsd@knoxfocus.com
Downtown Knoxville has undergone many changes recently. From a new parking garage to new apartment buildings, the need for the trolley service continues to evolve. To adjust to new needs, Knoxville Area Transit recently completed a survey of over 500 riders.
KAT is incorporating the feedback into a new proposal for better trolley access. The agency is striving hard to balance the logistical needs of riders with the new downtown.
"I feel this is a great proposal for the folks in Knoxville to get around for their work, play, and everyday life activities," KAT director Dawn Distler told The Focus.
"I am proud of KAT's schedule development team for the way they went about this process. They found ways to go out and meet the people who use the trolley and who want to use the trolley. They really listened and although we are unable to give everyone exactly what they wanted, we were able to provide more service to the places people told us they wanted to go. I'm excited to see it all come to fruition."
To keep the program cost neutral, the new proposal offers three new but similar routes. The main component involves transfer points to get from UT to downtown.
Highlights of the new proposal include service to The Old City every 10 minutes. Service times will also be extended until 8:00 p.m. on weekdays and until 10:00 p.m. on Fridays and Saturdays. All routes will have Saturday service. Efficient routes between UT and The Old City as well as the new apartments and east area are also addressed. Finally, issues such as consistency in Trolley system arrival times, a more centralized system and bus shelters to protect riders from harsh weather elements are included in the proposal.
To allow further feedback from the community, KAT will be holding open meetings in January to ensure the public has a voice in the decision-making process. The first will be held at Lawson McGee Library on Friday, January 15 from 9:00 a.m. to noon; and the second public meeting will be at the Knoxville Station Community Room on Thursday, January 21 from 4 p.m. to 6 p.m.
The Knoxville Transportation Authority will hold a hearing on the proposed changes on Thursday, January 28, 2016 at 3:00 p.m. in the Main Assembly Room of the City-County Building, 400 Main Street, where the public is also welcome to provide input.
The community may also contact KAT at (865)637-3000 to comment on the proposed changes. For more information about community meetings, the potential changes as well as a detailed map, visit katbus.com.