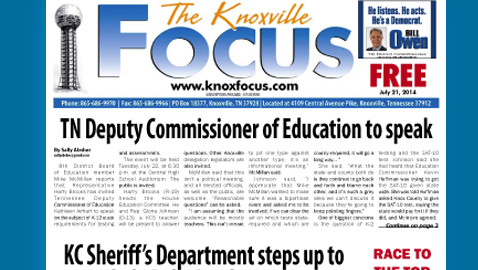 Click here to view this week's Focus.
TN Deputy Commissioner of Education to speak
By Sally Absher
sallyabsher@gmail.com
8th District Board of Education member Mike McMillan reports that Representative Harry Brooks has invited Tennessee Deputy Commissioner of Education Kathleen Airhart to speak on the subject of K-12 state requirements for testing and assessments.
The event will be held Tuesday, July 22, at 6:30 p.m. at the Central High School Auditorium. The public is invited.
Harry Brooks (R-19) heads the House Education Committee. He and Rep. Gloria Johnson (D-13), a KCS teacher, will be present to answer questions. Other Knoxville delegation legislators are also invited.
McMillan said that this isn't a political meeting, and all elected officials, as well as the public, are welcome. "Reasonable questions" can be asked.
"I am assuming that the audience will be mostly teachers. This isn't meant to pit one type against another type, it's an informational meeting," McMillan said.
Johnson said, "I appreciate that Mike McMillan wanted to make sure it was a bipartisan event and asked me to be involved. If we can clear the air on which tests state-required and which are county-required, it will go a long way… "
She said, "What the state and county both do is they continue to go back and forth and blame each other, and it's such a grey area we can't discuss it because they're going to keep pointing fingers."
One of biggest concerns is the question of K-2 testing and the SAT-10 test. Johnson said she had heard that Education Commissioner Kevin Huffman was trying to get the SAT-10 given state wide. She was told Huffman asked Knox County to give the SAT-10 test, saying the state would pay for it if they did, and McIntyre agreed.
"Here is the problem," Johnson explained. "The SAT-10 is a norm referenced test. It compares kids to each other and puts them on a bell curve. The TCAP is criterion referenced. You can't project a score from a norm referenced test onto a criteria referenced test [as students move from 2nd grade to 3rd grade]… it's not sound science."
In a meeting with elementary school teachers last week, Johnson said she learned that the first year Knox County gave the SAT-10 test; they included the environment part – which is social studies and science. But for the past two years, they have not given the social studies and science part of the SAT-10.
However, the TCAP, which is given in grades 3-8, includes social studies and science. They give predictive scores in all the grades on social studies and science.  Someone asked the Administration how they got those projected scores in social studies and science, since it's not tested, and was told "well science is like math, so we get the science scores from the math scores, and social studies is like reading, so we get the social studies scores from the reading score."
Johnson said, "We are setting our teachers up to fail. Harden Valley teachers had solid 5s last year, straight "As" in everything. This year, they got 1's across the board.
Our students are being short changed as well. Johnson said another K-2 teacher she met with said that she was told not to teach science and social studies – 'don't even worry about it. They get it in math or reading and we just don't have time to teach that, we've got to focus on these other things.'
Johnson said, "I'm glad this meeting is happening, I think it will clear up a lot of questions about where all this testing comes from, and I think it will help Harry (Brooks) have a better picture, and it will help me have a better picture. I know most of this, but it's good to hear it from an official from the state, so that everybody knows and can take ownership of their piece of it."
The public is invited to the event on July 22, 6:30 p.m., in the Central High School Auditorium.