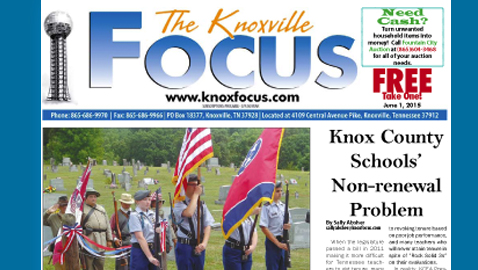 Corryton honors veterans
By Mike Steely
steelym@knoxfocus.com
There were numerous ceremonies held over the Memorial Day weekend but few had the feeling of a community drawing together to honor their local veterans as did the event last Monday afternoon at Clapp's Chapel United Methodist Church in Corryton.
Knox County Commissioner Dave Wright, who is a member of the church there, served as master of ceremonies for the outdoor event. Local residents assembled behind the church and in front of the church cemetery as Wright spoke. The Gibbs High School Army ROTC and a group of Civil War reenactors honored the flag and later the reenactors presented a gun salute from the cemetery grounds.
The reenactors, dressed in Confederate uniforms, were Ryan McKenzie, Sam Miller, John Hitt, Stewart Ulseth and Ed Bardill.
The Clapp's Chapel Choir performed as the audience stood for the flag and then held a moment of silence in honor of fallen veterans.
Wright was followed by local people who read poems and letters from veterans. The participants included Gin Legg, Will Boggs, Ed Bardill, Ben Greenwell, Susan Hargis and Ceabe Davis.
Other citizens then read the names of the veterans buried in the church cemetery. The readers were Opie Legg, Donna Boggs, Angie Sharp, Dean Sharp, Dave Wright and Clayton Sharp. Sharp is a 93-year-old Air Force veteran with service in Australia and New Guinea. After each name, term of service and branch of service was read, a chime sounded. The names read stretch back to the War of 1812 and include just about every war since then. Veterans buried in the cemetery include soldiers of both the North and South.
Pastor Bill Akers led the closing prayer and everyone was invited into the fellowship hall to have refreshments, view the large display of military items and photos of local veterans who served, and to socialize.
Wright told The Focus about the history his family has with the church and said that the late Richard E. Wright, a distant relative, began the annual memorial event in 2007. Although Wright, a former U. S. Navy Chief Petty Officer, has passed away the church and the community continue to honor all veterans and, next year, they plan a 10th Anniversary.